'Arthur' Celebrates 20th Anniversary with a New Season (VIDEOS)
It's hard to believe that the show Arthur is celebrating its 20th anniversary, but the little aardvark and his family and friends have been coming into our homes since October, 1996. This past week the PBS KIDS show began its 20th season, a well-deserved milestone for TV's longest-running children's animated series. The show is known for its catchy theme ("What a Wonderful Kind of Day") and iconic characters, and has touched on important topics like bullying, illness, and disability. This new season of Arthur will give viewers a look at the past, present and future of their favorite characters.
RELATED: Daniel Tiger's Neighborhood Is Here to Help Your Little One Start School
The show isn't just known for introducing relevant topics to children, it's also known for it's pop culture references (Jeopardy!, The Sopranos, Downton Abbey). Parents may even recognize references to the "Serial" podcast series in an episode titled "Cereal" in which Arthur attempts to solve a theft.
In celebration of Arthur's 20th anniversary, we have an exclusive clip of Arthur interviewing the show's creator, Marc Brown:
Even Brown, who created the Arthur book series in 1976, admits his surprise at the show's success. "I could never have dreamed, 20 years ago, the wonderful adventure I was about to have with Arthur," he said in a press release.
Here's the trailer for the new season:
Check your local listing for new episodes of Arthur premiering every Friday in October. Available for streaming on PBSKids.org and the PBS KIDS Video App.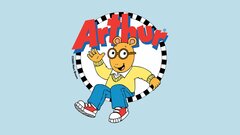 Arthur
where to stream
Powered by