Harry Shum Jr. on Creating 'Single By 30' and Teasing 'Shadowhunters' Season 2
Harry Shum Jr. first showed us his moves on Glee, then went on to play sexy eternal soul Magnus Bane on Freeform's Shadowhunters. Now we're seeing a more grounded side of the performer in the new YouTube Red series Single By 30. Shum plays Peter, an ordinary guy who has made a pact with his gal pal Joanna (Kina Grannis) to help each other find that special someone.
This is a romantic comedy so things get complicated early on when we find out (perhaps before they do) that the besties also have feelings for each other. How long will it take for them to take that leap beyond friendship?
Single by 30 is full of charm and Shum shows us a gentler side in this role (and, yes, we do get to see some of his fabulous dance moves) but the series lives on the easy chemistry he has with Grannis. Shum filled us in on how it all came together.
First, watch an exclusive clip from Single By 30:

What were the origins of the show?
Basically how YouTube really functions is you collaborate with other creators. With this one I reached out to them because I really liked one of the videos that they worked on and put out on their YouTube channel. We got to talking and we got to do little, fun shorts that we created together, and then they had this idea to do this project that was a pilot for New Form and YouTube. They wanted me and Kina lead up the projects and then we shot this 20-minute pilot that did really well, and they decided they wanted to do a full eight-episode, half-hour show. It was really great to be part of something so organic as opposed to, "Here's a project [where] we thought about you." I got to be a part of the whole process, which is really an awesome experience.
RELATED: Gilmore Girls' Yanic Truesdale on Returning to Stars Hollow and His New YouTube Show
Since you were involved in the process what was your objective with Peter given characters you've played in the past?
It really resonated with me because I was always that nice guy. When I was younger, specifically with women, I never really took a chance and really said what I felt and I think most people in general, when they like someone or they have feelings for someone, they have a hard time expressing them in a certain way. Sometimes when those moments kind of pass you by you bang your head on the wall.
For Peter I think it is that way. He has this idea, this mindset of getting married by the time he's 30 because his parents are pressuring him and society has that idea of when you hit a certain number you're supposed to have all of these things. So he is in a way trying to achieve those goals that aren't really his own. I think we've all dealt with that where we always want to try to please everyone else and we lose sight of pleasing ourselves at the end of the day.
From the first episode on, the audience sees that Peter and Joanna are friends who are attracted to each other but was it a big talking point creatively to have that come in so early in the show?
It's always weird when you have two best friends that are attracted to each other, but you also have these walls of one person doesn't want to get rejected so they never want to bring it up … It's that fear. But you also have to look at that 12 year gap, 12 years of not knowing what this person has learned, gone through or those things that can't be summed up in a day or catching up over coffee. So I think there's those fears that kind of come in the 12 years of whether it be burned by a past relationship and not knowing if that was maybe the right relationship.
I think we definitely discussed that and we don't want to make it seem like a romantic comedy, they love each other and they're just having a hard time expressing each other. I think that's why the pact makes it a lot more complicated. There's also the motivation of why the pact was two very different things for each of them. For Joanna it's to do things to be a lot more free, to have this goal that allows her to do more things. For Peter it's really that he really would be able to marry someone like Joanna and also he has that ticking clock. So there are two very different ideas, and hopefully they come to that same wavelength and we'll see if they end up together or not.
RELATED: Shadowhunters Finale Postmortem: Showrunner Ed Decter on Jace's Future, Simon's Predicament, and More

How was playing Peter after you had spent the last year or so in Magnus Bane's shoes. They're so different!
It's the spice of life. It makes me feel like I'm getting to experience so many different parts of the world without truly traveling. With someone like Magnus Bane, he's very worldly, he's seen everything, he's been through almost everything, he's felt I think every emotion possible in human existence but still has this quality about him that there's certain things that he's still finding new even living for centuries.
But for Peter it's completely the opposite. He hasn't really ventured out. He had one girlfriend for seven years but he hasn't experienced the world, he hasn't seen a lot of things. He hasn't traveled like Joanna, who has been all over the world after high school. For me it was really fun to play the polar opposite. In a lot of ways I really related to Peter because there was a time in my life where I didn't get to do a lot of that, where your mind is completely in a different place as opposed to someone who is a little more worldly and cultured.
Regarding Shadowhunters, would you say Magnus is the same in Season 2? Do you feel like he's changed at all between seasons?
At the end of the day I think for the audience you'll see some changes but not so much for Magnus. Magnus goes through many changes throughout decades or even year or even by the minute [or] what seems like the minute is a blink of an eye for him. So you're definitely going to see some changes as far as mood and even looks. Since the first season you've seen him change within days of looks and he's a very tempered, half-human, half-demon, and he's also very impatient in the sense that he gets bored really easily. So I think you can expect definitely some different moods and changes and looks from Magnus and to not say that he's out of character but more so that he likes to spice things up a lot.
Harry, do you have nail polish on your fingernails right now?
I will tomorrow! [laughs] It's so funny because my wife comes in and visits and that's the first thing she wants to do, she's like, "Can I paint your nails?" Fine.
Single By 30 is available now on YouTube Red. Shadowhunters will return in 2017 on Freeform.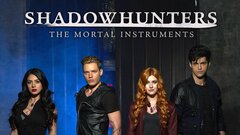 Powered by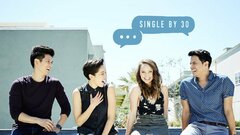 Powered by