The 'New Amsterdam' Finale Asks How Far the Doctors Will 'Go to Find Happiness'
Instead of opting for a typically "flashy" finale, New Amsterdam executive producer–director Peter Horton says, the medical drama looked within, creating an episode "all about our characters, making [our fans] fall in love with them again." The result: "Each is put to the test of how far they'll go to find happiness," creator David Schulner says. And for Season 4, coming this fall, "there's no going back."
Here's what you'll see on June 7.
Max Goodwin (Ryan Eggold)
The widowed medical director loses an object precious to his identity, forcing him to confront whether he's still that man. Horton asks: "Can he let go of the past and embrace the future?" (Signs point to yes.)
Helen Sharpe (Freema Agyeman)
As the oncologist and Max (above) have gotten closer, "Helen's past is pulling her back," Schulner says. "Things she ignored — her mother, her family, her real home, London — come back in this episode."
Lauren Bloom (Janet Montgomery)
The ED chief "has finally found real love" with Leyla (Shiva Kalaiselvan), an immigrant doctor in emergency medicine looking for a residency program, says Schulner. The question is, "to what lengths will she go to keep it?"
Iggy Frome (Tyler Labine)
A traumatic incident has helped the empathetic psychiatrist "realize he's been sacrificing his own joy to help everyone else," Schulner says. "He finds himself" — but this peace comes at a cost.
Floyd Reynolds (Jocko Sims)
After returning to the hospital in a lesser position, the ex–cardio department boss "wants more from life, love, and New Amsterdam," Schulner hints. "We give him everything he wants. Now he has to live with it!"
New Amsterdam, Season 3 Finale, Tuesday, June 8, 10/9c, NBC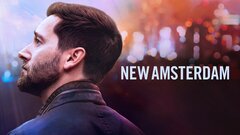 Powered by