'The Rain' Sneak Peek: Premiere Date & Photos From Netflix's New YA Thriller Released
In Netflix's first Danish original series, the youth of a post-apocalyptic world will face challenges as they attempt to save any survivors of The Rain.
Six years after a fatal virus carried by rain decimates most of the Scandinavian population, two brothers leave their shelter of safety in search of life. When they discover that the civilization they once knew is gone forever they link up with a group of other young survivors undertaking a risky quest to find others like themselves.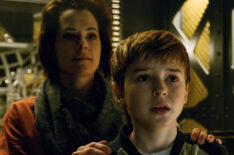 See Also
The show is a remake of the original 1960s series.
Like any young adult genre, these characters discover that the usual "coming of age dilemmas" are still present despite the shift in normalcy.
The Rain stars Alba Augus, Mikkel Boe Følsgaard, Lucas Lynggaard Tønnesen, Lars Simonsen, Iben Hjejle, Angela Bundalovic, Sonny Lindberg, Jessica Dinnage, Lukas Løkken and Johannes Kuhnke.
Check out the trailer below, and click through the gallery above for first-look pics from the series.
The Rain, Premieres Friday, May 4, Netflix