Meet the Characters of 'The Boys,' an 'Anti-Superhero Show' (PHOTOS)
The Avengers have assembled, the Arrowverse has expanded and comic book adaptations are pretty much everywhere. But none are quite as, um, colorful as The Boys. "This is in many ways the anti-superhero show," says showrunner Eric Kripke (Supernatural). "It's for people who maybe are getting a bit tired of superhero stories."
Based on Garth Ennis' 2006–12 comic book of the same name, the irreverent (and very adult) action comedy imagines a world where costumed crime fighters including Queen Maeve and The Homelander (Dominique McElligott and Antony Starr) are egotistical, entitled and responsible for property damage and deaths from their save-the-day tactics.
See Also
See what happens when vigilantes try to put the 'supes' in their place.
"What would happen if superheroes existed in the real world with all their privilege, influence and power?" says Kripke. "They'd be huge a**holes! So who's going to handle them?"
That would be the Boys, a CIA-funded covert-action unit that surveils, intimidates, blackmails and occasionally kills superheroes who represent the greatest threat to human society. Led by Billy Butcher (Karl Urban), the Boys are far from superpowered. "They're blue-collar," Kripke says. "They fight dirty."
See Also
The new series tells another side to the superhero story.
Indeed, the series does contain some pretty brutal scenes. But Kripke promises that the show is more than that. "I want the audience to feel like, 'Oh, yeah, this stuff is crazy, but it's a really good story and really good characters,'" he says. "I think people will be surprised by how much heart it has."
Click through the gallery above to meet the many faces of The Boys before streaming it on Amazon Prime Video.
With additional reporting by Meaghan Darwish
The Boys, Series Premiere, Friday, July 26, Amazon Prime Video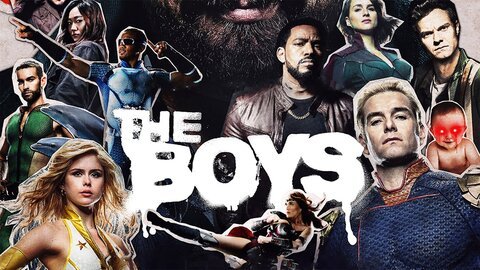 Powered by