'Party Down' Unveils First Look at Jennifer Garner & More in Season 3 (PHOTOS)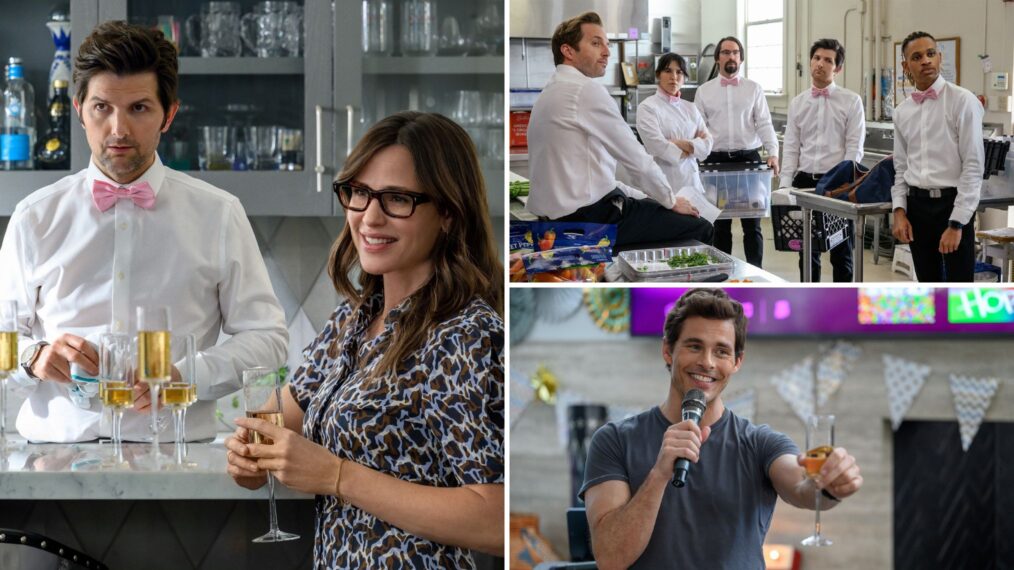 Are we having fun yet? Starz has unveiled a bevy of new first-look photos from the upcoming and long-awaited third season of its half-hour comedy Party Down ahead of its February 24 premiere.
The cult hit picks up ten years after its 2010-set second season, as most of the Party Down catering team have moved on, including actor and bartender Henry Pollard (Adam Scott). After a surprise reunion, the gang finds themselves once more enduring the monotony of endless parties and random quirky guests all over Los Angeles.
Along with Scott's Henry, Ken Marino, Jane Lynch, Martin Starr, Ryan Hansen, and Megan Mullally return to reprise their roles as Ron, Constance, Roman, Kyle, and Lydia. But they aren't the only ones tied to the catering shenanigans. Starring alongside the original cast members are new recruits Jennifer Garner, Tyrel Jackson Williams, Zoë Chao, and James Marsden who appears as a recurring guest star.
As fans of the show will recall, Party Down first premiered in 2009 and originally ran for two seasons on Starz following the day-to-day ups and downs of an L.A.-based catering company. Season 3 will be available to stream on the Starz app and all of the premium channel's on-demand platforms beginning at midnight on Friday, February 24. On linear, Season 3 will debut on Starz at 9 p.m. ET/PT on February 24.
Party Down is executive produced by showrunner John Enbom, Rob Thomas, Paul Rudd, Dan Etheridge, and Adam Scott. The season will feature six all-new episodes, and the first-look photos unveiled by Starz, below, offer a sneak peek at characters old and new. Scroll down for a look into the new chapter of Party Down, and stay tuned for more as the show's debut approaches.
Party Down, Season 3 Premiere, Friday, February 24, 9 p.m. ET/PT, Starz (midnight on the Starz app & On Demand)