7 Characters Bringing Pansexuality to TV (PHOTOS)
LGBT representation is reaching new horizons on television with the introduction of pansexual characters, and it's about time. Such inclusion not only affirms pansexuality as a legit sexual orientation but also offers pan viewers a chance to see themselves reflected on screen.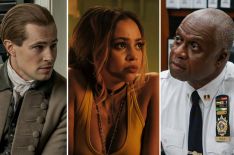 See Also
From Captain Holt to Toni Topaz, we can't help but admire these TV fixtures.
Simply put, pansexuality refers to romantic and/or sexual attraction regardless of gender — making space for potential partners who are gender nonconforming, gender non-binary, genderqueer, etc.
Of course, pansexual visibility on TV is still an issue — many of these characters' pansexuality is only asserted by their creators offscreen — but at least we're making strides. Flip through the gallery above to meet some of these pan flag-wavers.