What We're Excited to See From 'New Amsterdam' Characters in Season 3
New Amsterdam ended its second season early, but fortunately, we already know that it will be back once production is able to resume. The series was renewed for three seasons earlier this year.
And while there are certainly plenty of questions that need to be answered about storylines and how the current real-world coronavirus pandemic might be incorporated into the show (including the effect on the already-filmed flu episode that was postponed), we're taking a look at where Season 2 left the characters.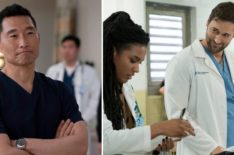 See Also
Showrunner David Schulner reveals how the real world pandemic will affect the fictional world of the NBC drama.
There was a bit of a shakeup with the introduction of Dr. Shin (Daniel Dae Kim), whose attitude may not mesh with Max's (Ryan Eggold) "how can I help?" approach and who may be a new love interest for Helen (Freema Agyeman). Meanwhile, several characters' personal storylines are complicated due to family matters, and there's always the question of what the future holds (and where it will take) Reynolds (Jocko Sims).
Scroll down as we examine what we're excited to see in New Amsterdam's characters' professional and personal lives in Season 3.