Gina Gershon Guest Stars as Bloom's Mother on 'New Amsterdam' (PHOTOS)
It's time for a family reunion on New Amsterdam.
Bloom (Janet Montgomery) is getting a blast from her past — and not a good one — in February 18's "Sabbath," in the form of an unexpected visitor, her mother, played by Gina Gershon. Janie is an alcoholic, but is that connected to what brings her back into her daughter's life? Bloom just went through quite the ordeal herself as a recovering addict, having to recuperate from surgery with minimal pain relief.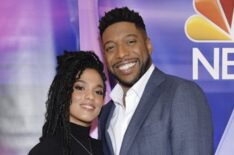 See Also
The stars also talk about their characters making heat of the moment decisions.
Also in this episode, Max (Ryan Eggold) races against the clock to rework the budget with employees going unpaid. Plus, Kapoor (Anupam Kher) is presented with a device that is the future of medicine, and Iggy (Tyler Labine) goes against the norms to prove a diagnosis.
Click through the gallery above for a look at Bloom with her mother and more.
New Amsterdam, Tuesdays, 10/9c, NBC