Jill Wagner & Kristoffer Polaha Star in HM&M 'Mystery 101: Dead Talk' (PHOTOS)
Jill Wagner and Kristoffer Polaha star in Hallmark Movies & Mysteries Mystery 101: Dead Talk, a new original movie premiering Sunday, September 22. Amy (Wagner) heads to the big city to give an address as part of a TED Talk-style lecture series run by Amy's ex from grad school, Tim Bishop (Matthew James Dowden).
When one of her fellow speakers, a genius inventor, is killed in a freak accident, Amy suspects foul play. But the local cops shut her out of the investigation so she calls upon Travis (Polaha) to help, and he is quick to suspect Tim (but Travis may have other reasons for not liking the man).
After Amy and Travis discover the dead man was an informant in a corporate espionage case, Amy knows why the cops stonewalled her.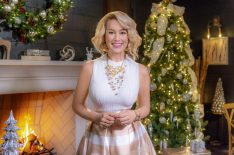 See Also
We've got the complete lineup for this year's holiday movie offerings on Hallmark Channel and Hallmark Movies & Mysteries.
She and Travis sniff out a motley collection of potential killers, including a corporate CEO, a trust fund kid, and the dead man's wife. Amy will prove that you can take the crime-solver out of the small town, but that's not going to stop her from solving crimes.
Mystery 101: Dead Talk,Movie Premiere, Sunday, September 22, 9/8c, Hallmark Movies & Mysteries