'Pupparazzi' Star Shares 5 Tips for Perfect Pics of Your Pooch (PHOTOS)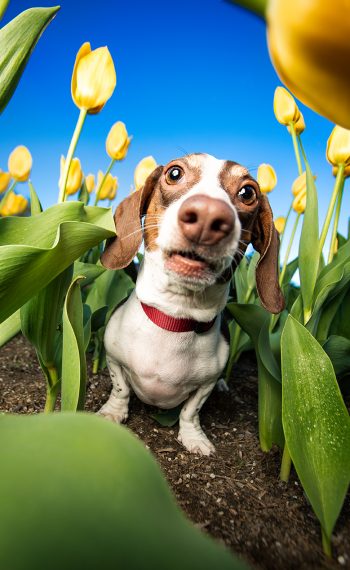 Pet photographer Kaylee Greer is one of the most sought-after "dogtographers" in the world, and her impressive portfolio showcases her ability to capture the silly side of man's best friend. Nat Geo Wild's Pupparazzi, a three-part miniseries that has us begging for more, follows her as she and her fiancé Sam shoot ad campaigns for major brands, create wacky themed portraits for private clients and facilitate photo shoots for shelter dogs in the hopes of helping them find forever homes.
Greer shares that her journey to becoming a famous pet photographer stemmed from her love of helping animals.
See Also
Season 5 of the Nat Geo Wild favorite returns with new episodes.
"I didn't even consider photography until I met a dog in need because I was volunteering at the shelter. I was just walking the dog and doing whatever I could with my two small hands to make some sort of difference. That was where I realized a couple of months in, 'Oh my God, I think a photograph really could have the power to change a dog's life. I really think that if I could somehow get good at this photography thing, maybe I could serve to tell their stories in a single image.'"
So she started snapping pics of the animals in the shelter and saw that her images showed each dog in a new light.
"A photo says a thousand words. We have such a small amount of time to capture someone's attention. It's all there in that image, in that dog's eyes—their story." And Kaylee realized that helping dogs find new homes had the potential to save the other animals too. "When you rescue a dog really you rescue two because you rescue that dog that came from the cage and you also open up a spot in that cage for another dog."
She says, "When people ask what came first dogs or photography, it's always with dogs. Through that passion and through that love, and my crazy dog lady-isms, I realized that photography could be a path. And never for a business, it was never intentioned for any sort of outcome. It was never financially I want to have a successful business or fame or fortune or anything like that. It was always about those dogs."
And in celebration of all of the wild, wonderful and wiggly moments that she's captured on film, Greer shares 5 of her best tips to help you take better photos of your own wiggle-butt, as seen in the gallery above.
And after you've checked out Pupparazzi and taken pro-looking pics of your pooch, show off your favorite pet photos in our comments!
Pupparazzi, Saturdays beginning Sept. 15 at 10/9c, Nat Geo Wild