'It's a Wonderful Lifetime' 2020 Is Here! Your Full Schedule of Christmas Movies
The most wonderful time of the year is ready to roll. At least, on Lifetime, where the network's annual It's a Wonderful Lifetime film fest starts Friday, October 23, with Christmas on Ice.
But the holiday romance, in which a skating-rink-at-risk brings together two strangers bound for romance, is just the start. The network's lineup runs through Christmas Day (December 25), and features its largest holiday movie slate ever. That includes a few firsts for Lifetime: a holiday movie with a LGBTQ romance as the lead story (The Christmas Setup), a holiday movie centered on a Chinese-American family (A Sugar & Spice Holiday), a movie starring a lead actor with a disability (Christmas Ever After), and a movie centered on a military vet (A Welcome Home Christmas).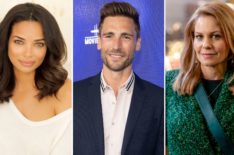 See Also
Find out who has been cast in the networks' new movies, mysteries, and series, and find out more about the 2020-2021 programming lineup.
Scroll down for all the details (including synopses and air dates) and first looks at Lifetime's 30 new movies (the most of any one network) starring Kelly Rowland, Melissa Joan Hart, Vanessa Lachey, Jason Priestley, Ali Stroker, Jacky Lai, Ben Lewis, Blake Lee, Nia Vardalos, and more.
It's a Wonderful Lifetime, Beginning October 23, Lifetime