The Ladies of 'GLOW' Take on Vegas & Geena Davis in Season 3 Trailer (PHOTOS)
The Gorgeous Ladies of Wrestling are back — and taking on Las Vegas — in the Season 3 trailer for the Netflix original series.
The streaming service released the official trailer for the new season of GLOW as well as more images from the upcoming episodes on Monday as the women, now headlining at the Fan-Tan Hotel and Casino, "realize Sin City is much more grind than glitter."
See Also
Plus, find out more about her role.
In these next 10 episodes, Ruth's (Alison Brie) complicated personal life begins taking priority over her passion for the show. "I have a job. I have a boyfriend," she says in the trailer. "Somehow I still feel lost."
Debbie (Betty Gilpin) may be doing well as a producer, but she's feeling guilty about the distance between her and her son. As the residency goes on, "the lines blur between performance and reality, and the cast find themselves struggling with their own identities both in and outside of the ring."
See Also
The top ladies from the heydey of the original GLOW wrestling league.
Watch the trailer below to see how they're handling Las Vegas and Geena Davis' Sandy Devereaux St. Clair in action, and click through the gallery above to see the new photos and key art from Glow Season 3.
GLOW, Season 3, August 9, Netflix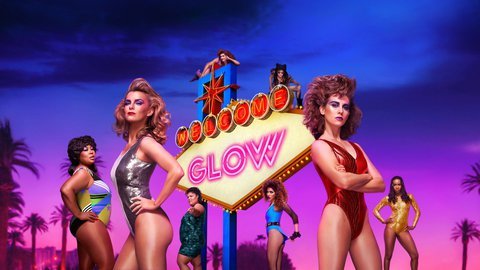 GLOW
where to stream
Powered by