What Needs to Be Covered in Season 2 of 'Euphoria' (PHOTOS)
[WARNING: The following contains MAJOR spoilers for the first season of HBO's Euphoria.]
The first season of the hit HBO series Euphoria abruptly left us wanting more after witnessing the crazed tales of reckless teenagers. In its eight-episode debut, fans were very much invested in each individual character's story arc, which made the finale hard to watch as we were left with a lot of unanswered questions.
Euphoria's Season 1 finale took place at prom, as viewers experienced relationships dying, forming and uncomfortably reappearing all in the same episode. The heart-crushing breakup between Zendaya's character Rue and her emotionally unavailable love interest Jules, played by model Hunter Schafer, left fans shook and confused that Rue doesn't board the train with Jules after planning their escape together.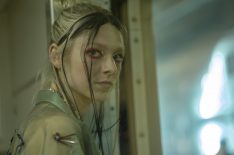 See Also
Plus, is Fez all good with his supplier? Did [Spoiler] die? And what do we need answered in Season 2?
After seeing one couple end, another blooms as Barbie Ferreira's character Kat explores her sexuality further without depending on her cam girl side gig as she approaches Ethan at the dance. Later that same night, we see the reunion between Maddy, played by Alexa Dermie, and her ex-boyfriend Nate (played by Jacob Elordi) to continue their toxic bittersweet relationship.
As partygoers danced at what seemed to be a typical dramatic prom night, Fez finds himself in a predicament paying back his drug supplier Mouse, and Cassie is alone with her sister Lexi after having an abortion.
With all of the craziness that occurred in Euphoria's first season finale and its announcement of a second season, we put together a gallery of what needs to be addressed in Season 2. Be sure to click through above as we wait for the new season.
Euphoria, Season 1, Streaming, HBO Go
Powered by