Comic-Con 2019 Day 3: 'Star Trek: Picard,' 'Riverdale' & More Star Portraits in Our Studio (PHOTOS)
San Diego Comic-Con 2019 may be winding down, but there are still plenty of goodies coming out of the summer's biggest event. Along with huge announcements, many casts of today's popular shows are making appearances.
Many of those casts are stopping by the TV Insider and TV Guide Magazine photo studio and we're giving you the inside look at their gorgeous portraits.
Day 3 of the convention saw stars from Star Trek: Picard, Riverdale, The Flash, The Magicians and more stop by for some photo fun. Click through the gallery above for your look at some of your favorites and continue to check back for more Comic-Con content.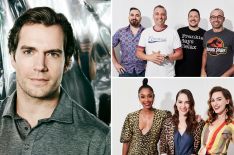 See Also
Plus, 'Impractical Jokers,' 'Legacies,' and more.