11 of the Best Sci-Fi, Fantasy & Horror Shows of the 2010s (PHOTOS)
The 2010s were a good decade for television in general, but it might have been best for fans of TV that explores the outer reaches of the galaxy, questions the nature of humanity via robots and raises the dead as flesh-chomping zombies.
With streaming services like Netflix and Hulu getting into original programming and being unafraid to take risks as they did so, the number of genre shows rose. That said, there were some notable additions in the sphere of premium and even network channels, too… including a few that will shape the genre for years to come.
With the decade drawing to a close, let's take a look back at some of our favorite sci-fi, fantasy, and horror shows from the past 10 years.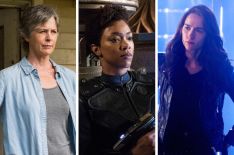 See Also
In a genre oft-dominated by men, these girls show the boys who's boss.