'RuPaul's Drag Race,' 'Pose' & 6 More LGBTQ+ Shows to Stream
From groundbreaking classics to hot new hits, there are so many shows highlighting the experiences of the LGBTQ+ community to stream. Whether you're looking for fierce competition or some fictional romance we've got you covered.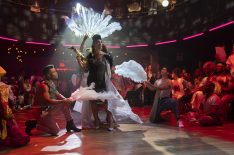 See Also
Personal anecdotes and a wealth of footage track the slow road to progress for gay characters and personalities on TV.
From glamour to heartbreak, these shows have it all. Get ready to laugh, cry, and lip sync for your life with these fabulous LGBTQ+ series across Netflix and Hulu.