10 Best TV BFFs in Honor of National Women's Friendship Day (PHOTOS)
National Women's Friendship Day, celebrated on September 16, is meant to be spent with your bestie — or besties. But why not invite some fictional friends along for the fun?
In honor of a day celebrating strong bonds between women, we're taking a look at some of TV's best female friendships in recent years. Click through the gallery above for all of our picks!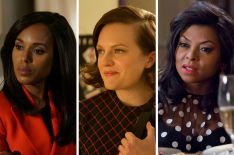 See Also
These ladies prove strength and independence knows no gender.