'Hasta La Vista, Baby' & More of Arnold Schwarzenegger's Best Film Lines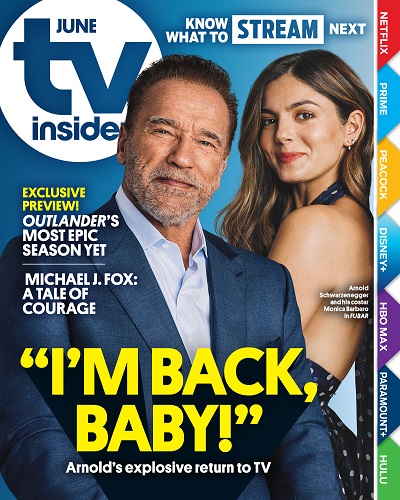 Is there anyone, anywhere who hasn't quoted "I'll be back" in Arnold Schwarzenegger's Austrian accent? The actor memorably used the line first in 1984's The Terminator and again in multiple other movies.
Can you expect more verbal gems in FUBAR? Well…early on, he blows a bad guy to bits. Later, asked where the man is, he replies, "He's kind of all over the place." Plus, co-star Monica Barbaro continues the Arnold impression tradition when tasked with impersonating her on-screen dad with a therapy puppet in the Netflix series.
"How far do I go into the funny impression of him, and how much do I keep what he sounds like?" Barbaro told TV Insider Magazine for our FUBAR cover story. Her worries about mimicking the famed action star were assuaged when Schwarzenegger replied, "Are you kidding? My kids imitate me all the time!"
His onscreen mannerisms being as famous as his one-liners, Barbaro added a physical layer to her impression. "I had my [Schwarzenegger] puppet flex and kiss his own muscle. That made Arnold break," she said.
Ahead of FUBAR's May 25 debut, let's look back at Schwarzenegger's kick-ass movie career for more fav lines.
This is an excerpt from TV Insider's June issue. For more in-depth, reported coverage devoted to streaming shows from the publishers of TV Guide Magazine, pick up the issue, currently on newsstands or purchase it online here. You can also subscribe to TV Insider Magazine here now.
FUBAR, Series Premiere, Thursday, May 25, Netflix