'Doctor Who': First Look at Christmas Special Trailer, Plus Clues About the New Season
On the heels of a Christmas Special in December, a new season in spring 2017, and upcoming companion Bill (played by Pearl Mackie), there's a lot to be excited about for Doctor Who, as we found out at New York Comic Con on Friday.
Executive producers Brian Minchin and Steven Moffat, stars Matt Lucas, Mackie and Capaldi (making his first NYCC appearance ever) attended the BBC America panel at Madison Square Garden to discuss the show's future.
The biggest change? "The tone is very different," Moffat says. "If I gave you one tone-word for this it's new, it's brand new. We went through pains to make sure Episode 1 is really Episode 1."
RELATED: More New York Comic Con Coverage
We also got to learn more about The Doctor's companion-to-come, Bill. "I'm not going to tell you how they meet or anything about it," Moffat says, adding: "The only thing I can promise you is it is really quite different."
"The great thing about Bill is that she comes from the real world," Capaldi added. "She doesn't come from the world of Doctor Who."
"There's a wonderful dynamic between them," Mackie adds. She also recalled going to a hotel for a read-through with Moffat of the scene where Bill first goes into the TARDIS where Steven ran around pressing imaginary TARDIS buttons while she thinks, "This is the maddest thing that's ever happened to me."
RELATED: Doctor Who 'Exterminates' The Wait, Announces New Companion
BBC America also released a behind-the-scenes teaser clip from this year's Christmas Special and exclusive art of guest star Justin Chatwin (Orphan Black, Shameless) playing a superhero decked in all black.
Meet a new hero from the #DoctorWho Christmas Special, played by guest star @Justingchatwin. #NYCC pic.twitter.com/wtTz9a4d3w

— BBC America (@BBCAMERICA) October 7, 2016
Moffat explains his inspiration for the hero-themed storyline. "Clark Kent is awesome," he exclaimed. "I've always loved Clark Kent. Every hero after that has been dispensable, apart from Doctor Who and Sherlock Holmes," he joked.
Moffat also discussed the addition of Lucas (Bridesmaids) to this year's Christmas Special. "I was thinking it would be great if The Doctor, particularly Capaldi's Doctor, had a valet or butler who wasn't particularly compliant," he explained."There's a lot of layers to him [Lucas's character], he's even a little sinister sometimes," adding that he was shocked someone with Lucas's career would want to re-enter the Who-verse. "He just kept volunteering to do more!"
Check out a teaser for the Christmas Special below.
Doctor Who Christmas Special, The Return of Doctor Mysterio, Sunday, December 25, BBC America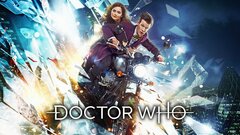 Powered by