ABC News' Byron Pitts: 'Mike Tyson' Docuseries Packs a Punch
One of the biggest and most controversial names in boxing is at the center of the upcoming ABC documentary series Mike Tyson: The Knockout. Through four parts over two nights, the series covers the climb, crash, and comeback of the often polarizing former heavyweight champion. The story is told through new interviews, archival video, and previously unaired footage of a poignant interview with Tyson, conducted by Byron Pitts, ABC News chief national correspondent.
"For all that he achieved, I think for many people the question remains, 'What could [Tyson] have been if he stayed on a different path?'" the Nightline coanchor asks.
Here Pitts previews this one-two punch of a doc, and suggests Tyson is more than meets the eye.
There have been so many tellings of Mike Tyson's story. What makes this one stand out?
Byron Pitts: It's so comprehensive. I think it gives full context to Mike Tyson's life from birth to today, where he is a 54-year-old man working to rediscover who he is. I think a lot of people know different aspects of Mike Tyson's life, whether it was the heavyweight champion of the world or the one who got involved in all these dangerous activities. Then there are certain generations of young people who only know Mike Tyson from the movies and the occasional TV appearance today. With this documentary, you get to see all who Mike Tyson was, who he is and how he got to where he is now.
See Also
The broadcaster, known to wrestling fans as Charly Caruso, was a part-time ESPN contributor for shows including 'First Take.'
What was it like sitting down with him for the interview?
Over the course of the interview, you see a man who, like most adults of a certain age, has a measure of regret about the choices he made. There is a point in the interview that becomes emotional. There is a point where he is combative and a point where he is almost attempting to be menacing in a way. Then I saw a part of Mike Tyson I've never seen through all the research and video in preparation for this documentary. It's the interaction with his son, who is eight or nine. You see this sweetness, this gentle, doting father that I've not seen before. I think as a parent myself, that's not something you can fake. There is genuine affection between him and his boy. That was telling. It shows where Mike Tyson is in his life.
Did anything surprise you about the man?
I was surprised by how big he was. He fought against men who are very tall. You would think that Mike Tyson was small, a fire hydrant of a man. He is probably 5-8, 5-9, as tall as the average man, and incredibly fit. He has a presence about him. There is a regal [quality] to him that I was surprised by. I was taken by his intellect. I knew he loved to read, so I brought him five books. He had already read three of them. We had a conversation about Afghanistan, where I spent time as a war correspondent. He had done a considerable amount of reading about that country and its history. Without exaggeration, Mike Tyson has probably read more than a thousand books in his lifetime. So his depth of knowledge on a variety of topics and interests surprised me.
The conversation certainly helps really show where Mike Tyson's head is at today.
You see a 54-year-old man who seems to be at peace with where he is right now. He has a very different moral compass now. At different points in the documentary, you see a guy you might admire, a guy you might fear, who you don't respect, and a menace to society. Then, in the end, you meet, as my late mom would say, a grown-ass man who has experienced the highs and lows of life and is still standing. Not as tall, but firmly standing where he is now. And I think he is as surprised as anybody that he is still alive.
What do you think people will take from watching this project?
I think in this COVID age we are all living in, many of us are re-examining our lives. You can reflect on your own journey when you reflect on his. There is a lot of Mike Tyson in a lot of us. He is someone who has battled his own demons — sometimes successfully, sometimes unsuccessfully. He is a man filled with arrogance, other times insecurity. He is someone who took what he was given and maximized it. There is a curiosity you can see in yourself.
Noting the racial tension in our country, ABC is creating dialogue through projects like The Knockout and Soul of a Nation. What is it like for you to see?
I think for many of us at ABC News, we found our sweet spot professionally. I've been a journalist for 40 years; my colleague, Juju Chang, for nearly as long. Your skill set and experience are now in line with the times we live in. We're able to explore. One of the reasons I'm proud to be part of ABC News is how diverse and inclusive the place is. Diversity means you are welcomed in the room. Inclusion means you sit at the table. I think what you see reflected in the work today is the number of voices invited to the table at ABC News. We've done this important work recently on Asian hate crimes. It has been led in many ways by the Asian Americans on our team but also our white colleagues and other colleagues of color because there is a recognition that everyone has a story to tell. Truth needs to be honored and told in a thorough way. I think the Mike Tyson profile also touches on issues of race and class that are part of the thread of the American experience. I think now we have a lot of diverse voices at ABC News. We live in important times. I think my colleagues are leaning into that in the best ways with honorable traditions of journalism.
Mike Tyson: The Knockout, May 25 and June 1, 8/7c, ABC
After Floyd: The Year that Shook the World – A Soul of a Nation Special, May 25, 10/9c, ABC
A Soul of a Nation: Juneteenth Special, June 18, 9/8c, ABC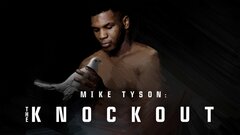 Powered by