Say 'I Do' to These Wedding Episodes of '9-1-1,' 'This Is Us' & More
Dearly beloved, we are gathered here today to welcome the summer wedding season with episodes devoted to TV's most blessed events!
9-1-1
"This Life We Choose," Season 2, Episode 18
A slew of life-or-death rescues inspire heroic firefighter Bobby (Peter Krause) to whisk his fiancée, LAPD officer Athena (Angela Bassett), off to the courthouse for a quickie ceremony so full of emotion, our first response was to tear up.
See Also
The upcoming HBO Max cast reunion revisits at least two of these standout installments.
The Wonder Years
"The Wedding," Season 5, Episode 22
Insightful Kevin Arnold (Fred Savage) experiences the poignant growing pain of goodbye when his sister Karen (Olivia d'Abo) marries her boyfriend (David Schwimmer) in a New Agey ceremony before moving away to Alaska.
How I Met Your Mother
"The End of the Aisle," Season 9, Episode 22
One of the comedy's final episodes sees a panic-stricken Robin (Cobie Smulders) and Barney (Neil Patrick Harris) getting cold feet minutes before their nuptials, the culmination of the infamous Slap Bet and guest visits by Tracey Ullman and Smulders' real-life hubby, Taran Killam.
This Is Us
"The Wedding," Season 2, Episode 18
Season 2 ends with Kate (Chrissy Metz) dealing with something old — the memories of her late dad (Milo Ventimiglia) — before tying the knot with Toby (Chris Sullivan), while the show serves up something new: a flash-forward that predicts one character's bout with the blues.
Brooklyn Nine-Nine
"Jake & Amy," Season 5, Episode 22
A bomb threat, a corgi ring bearer, and a flirty Uber driver keep the squad busy during the mad dash to help police officers Jake (Andy Samberg) and Amy (Melissa Fumero) exchange vows.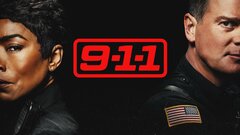 9-1-1
where to stream