Don Cheadle Explores California Drought on 'Years of Living Dangerously'
Years of Living Dangerously, the Emmy-winning docuseries about the impact of global warming, returns October 30 on National Geographic Channel, featuring many activists from the first go-round, including Don Cheadle, Ian Somerhalder and America Ferrera.
RELATED: 20 Gorgeous Photos to Celebrate 15 Years of the Nat Geo Channel
Cheadle explores the California drought in the November 23 episode. "It's eye-opening to meet farmers who are trying to stave off drought while trying to feed the country," he says. "It's our responsibility to do all we can to address climate change. It's the most important issue that we all have to face, one no one can get away from."
Years of Living Dangerously, Season Premiere, Sunday, October 30, 8/7c, National Geographic Channel.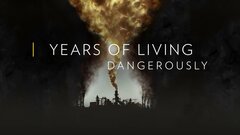 Powered by