Roush Review: NBC's Moving 'This Is Us', CBS's 'Bull' Session
Maybe you saw the promos a few hundred times during the Olympics for NBC's unconventional new family drama? The one with the vague title This Is Us? (Shouldn't it be These Are Us, anyway?) The one that looks like it's going to make you cry?
It would be a crying shame if a TV audience starved for characters to care about doesn't show up for this sentimental but emotionally affecting gem, which introduces a variety of characters whose connections aren't immediately clear, except for the fact that several share a birth date. These instantly engaging folks include Jack (a warmly restrained Milo Ventimiglia), who's about to become a father (with Mandy Moore as his lovely wife, Rebecca); Randall (newly christened Emmy winner Sterling K. Brown), who's about to meet the absentee father who abandoned him at birth; and siblings Kate (Chrissy Metz), struggling with weight issues, and sitcom star Kevin (Justin Hartley), whose hunky hotness keeps him from being taken seriously. ("It's just better without the shirt," his producer insists.)
More Roush Reviews: See What Matt Thinks About Other Shows
The more you get to know these people, the more you root for them. And once you understand what binds them, in one of the best payoffs in any pilot episode this year, you'll likely want to adopt them as your new extended TV family. We've needed a good weekly cry since Parenthood went away, and This could fit that weepy feel-good bill.
Executive producer Dan Fogelman, who has another uplifting series premiering later this week with Fox's Pitch, isn't exactly subtle in his approach. Things can get a little preachy, like when folksy ob-gyn doctor Gerald McRaney shows up to dispense avuncular wisdom during Jack and Rebecca's fraught delivery. Or when Kevin melts down on his sitcom set, chiding the audience, "It's your fault for demanding so little of us!" (This, however, might strike a nerve, for anyone who may have tuned into CBS's Kevin Can Wait on Monday night.) Or when Randall rubs his sheepish birth father's (Ron Cephas Jones) nose in his own success.
The angst is often cushioned by humor and by a self-deprecating awareness of everyone's failings, especially in the Mike & Molly-style romance that blooms between Kate and the irreverent Toby (Chris Sullivan) at an overeaters' support group. These are not cookie-cutter characters you've seen a thousand times before. In a season that leans so heavily on remakes and formula franchises, it's hard to overestimate how refreshing a series like This Is Us is.
What are you waiting for? Grab a tissue and join the rest of us.
DR. FULL (OF HIMSELF): In a previous pre-TV-star life, Dr. Phil McGraw was a trial and jury consultant. That experience led him to sell his parent company CBS on Bull, which is more like ground meat in its tepid approach to legal drama. There are flashy social-media graphics, and the requisite electronic wall to display the high-tech methods of Dr. Jason Bull's Trial Analysis Corporation firm. No amount of gizmos can disguise the truth: This whole enterprise is just a way to keep Michael Weatherly tethered to the network, nestled in an NCIS hammock between his old stomping grounds and NCIS: New Orleans, a spinoff so uninspired it makes Bull seem almost original.
Weatherly is a genuine TV star, and his smart-alecky cockiness fits Dr. Bull well , mocking lawyers and assorted other authority figures while zeroing in on potential jurors, getting inside their minds (which open up to us in imagined dialogue delivered straight to the camera). But unlike the irrepressible charmer Tony DiNizzo, Dr. Bull is an incorrigible and seemingly infallible know-it-all, and his generic staff tends to fawn all over him when what he could really use is a cameo by Mark Harmon as Gibbs to smack him upside the head at least once an act. Never gonna happen here.
While cable networks like USA and TNT are moving away from formula procedurals to take bolder and edgier risks, CBS is doubling down on the tried and true, the safe and soporific. While Bull is harmless enough and infinitely forgettable, and Weatherly's fans will be glad to be spared too much separation anxiety from having lost Tony on NCIS, it's too bad this charismatic actor didn't try his hand at something new, like comedy. This show isn't so much a case of taking a bull by its horns as coasting to another multi-season finish line.
This Is Us premieres Tuesday, Sept. 20, 10/9c, on NBC (moves to 9/8c on Oct. 11).
Bull premieres Tuesday, Sept. 20, 9/8c, on CBS.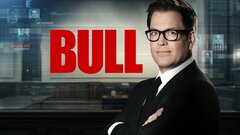 Bull
where to stream
Powered by
Powered by