'NCIS: New Orleans' Welcomes Tom Arnold and Vanessa Ferlito to The Big Easy
Drug runners on NCIS: New Orleans are like bunnies. Turn your back to solve another crime and they multiply all over the city.
In the Season 3 premiere, Washington sends FBI special agent Tammy Gregorio (new series regular Vanessa Ferlito) down south to investigate how the New Orleans NCIS bureau let this happen. Now she's not leaving until the problem is solved and the evil Ciudad Natal cartel is no longer operating out of the Big Easy. But Gregorio has an issue: The strict, bureaucratic Northerner just doesn't get the unconventional, homespun way Agent Pride (Scott Bakula) and his team do their jobs.
RELATED: Pride Gets a New Nemesis on NCIS: New Orleans Season 2
It will take some time for Gregorio to adjust to the crew and her new digs, which are very different from New York (where she grew up) and Washington, D.C. (where she works). "It's the reverse of Crocodile Dundee," executive producer Brad Kern says. "We plucked an acerbic New Yorker and D.C. loyalist and put her down in the casual fun, humidity, color and music that is New Orleans. That's quite a contrast."
This is partly why Ferlito was perfect for the role. "Vanessa is all New York, and there's no city more different to New Orleans. Gregorio is kick-ass, she has a biting sense of humor, she's no-nonsense and she's pretty sure of her ways. It'll be fun to watch her assimilate into the seduction that is New Orleans."
RELATED: NCIS: New Orleans Celebrates Life in the Big Easy (Even When It Isn't)
Ferlito isn't the only new face in the cast. An upcoming episode finds Pride befriending the lead suspect in a multiple homicide, a former Navy Intelligence analyst played by Tom Arnold. "He's part slimeball, part thorn in Pride's side," Kern says, "but it's a great relationship." According to Kern, Arnold's Crescent City visit is part of a bigger move to add more recurring guest characters to the show, so expect him to come back.
In that spirit, Steven Weber's Mayor Hamilton is also returning and will become more important to the series as the season progresses—in his usually charming, corrupt way. "Hamilton is the epitome of New Orleans," Kern says. "We were shooting a scene in city hall, and a long hallway had paintings of its mayors over the course of the last hundred years. Someone pointed out how most of the living ones have been or are still in prison. And that's him!"
NCIS: New Orleans, Season Premiere, Tuesday September 20, 10/9c, CBS.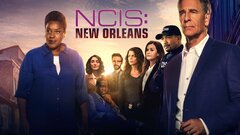 Powered by