'Empire' Puts the Focus Back On the Lyons for Season 3
Somebody goes bye-bye. Count on it.
Empire ended last season with two volcanic vixens—Rhonda Lyon (Kaitlin Doubleday) and Anika "Boo Boo Kitty" Calhoun (Grace Gealey)—battling it out on the terrace of a New York City high-rise. We were led to believe that one of them went flying over the ledge to the street below, and when the show returns, there will be no cartoon cop-outs, no soft landings in a garbage bin. It's death, baby. Real and messy and soapy as hell.
RELATED: More Scoop on Fall Shows
"Whichever way this turns out, everybody in the Lyon family will be affected in a huge way," says co-creator Lee Daniels, who swears he learned a major lesson from Empire's clunky (though fiercely rated) sophomore year, which was hampered by too many scattershot characters and failed casting stunts. (Marisa Tomei as a cutthroat lesbian! Chris Rock as a cannibal crime lord!) "In Season 3 we're putting the focus where it belongs—fully on the Lyons," says Daniels. "That's what made us a hit to begin with."
But are we ready for a Pygmalion story with big mama Cookie Lyon (Taraji P. Henson) as Eliza Doolittle? In last May's cliffhanger, Cookie and her thuggy ex-hubby, Lucious (Terrence Howard), were on the verge of a romantic reunion, but he made a fast and dirty decision to wed Anika so she couldn't squeal on him in court.
RELATED: Empire: First Look at Taye Diggs As Cookie's Well-Connected Beau
"Cookie understood why Lucious had to do it, but he was so quick to save his own stank ass that it broke her heart," says Henson. "C'mon, when you're in love, you find another way. There was no fight. He just gave up on her—and Cookie spent 17 years in jail to protect him! Now she's done with that slithering snake." Enter well-to-do city councilman Angelo Dubois (Taye Diggs), who is that rarity in politics—an upstanding, scandal-free public servant. "Angelo is trying to be Barack Obama, but Cookie thinks he's a square," says Henson. "Besides, the last thing she needs right now is another man."
Love blooms anyway. "Lucious is so jealous of Angelo that he's actually lurking in the shadows," Henson says with a laugh. "His head is spinning like something out of The Exorcist!" Angelo's domineering mother, Diana (Phylicia Rashad), also flips out over the match and worries that her son's new low-rent girlfriend will jeopardize his shot at the White House.
"Diana comes from Oprah money—and that means clean money," says Daniels. "She thinks Cookie, with her dirty drug money and jailbird past, will never be good enough for Angelo. So, three seasons into Empire, Cookie will finally have a worthy opponent, and it won't end well."
RELATED: Empire Books Mariah Carey For Guest Spot
How's this for sad irony? Flashbacks will reveal that Cookie wasn't a badass when she and Lucious met as teens, as we assumed. "She came from the right side of the tracks," Henson says. "She was a good girl gone bad, and it was all because of Lucious. So she really does belong in Angelo's world."
Elsewhere in the Lyon den, bratty youngest brother Hakeem (Bryshere Gray), who was left jilted at the altar last season, "will finally become a man, and his music—which becomes less pop and more gangsta—will reflect that," says Daniels. Middle kid Jamal (Jussie Smollett), suffering from PTSD after being shot, falls hard for his counselor, Philip (Juan Antonio). And eldest bro Andre (Trai Byers) is primed to be a loser no matter how that balcony blowup turns out. Married to Rhonda, he'll either be a widower or the husband of a killer. Will he be blamed for the crime? This we know for sure: Andre becomes a victim of racial profiling by the NYPD.
"Andre has always suffered from invisible-man syndrome," notes Byers. "He's the guy who can never quite find himself, the son who still cowers a little whenever Lucious gives him hell. Now he's going to an even darker, more vulnerable place."
But nobody's making Mariah Carey get vulnerable. She'll guest as a superstar singer named Kitty—that's Daniels' real-life nickname for Carey—who will duet dazzlingly with Jamal. "I'm finally letting Mariah wear makeup, and now she's so grateful she'll do anything for me," cracks Daniels, who previously directed the überdiva in Precious, where she played a dowdy social worker, and The Butler, where she was a 1920s sharecropper. "She was on her best behavior when she came to the set," Daniels says. "Of course, she had to be. She knew I'd snatch that makeup right off her!"
Empire, Season Premiere, Wednesday, September 21, 9/8c, Fox.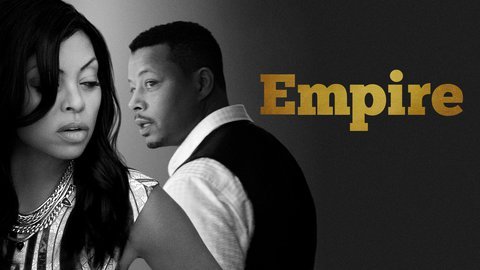 Empire
where to stream
Powered by