Perez Hilton Plays a Reverend on 'The Bold and the Beautiful', Talks Acting Ambition
If anyone can show just cause why fashion designer Eric Forrester and crackpot criminal Quinn Fuller should not be joined in holy matrimony then take it up with Perez Hilton! The superstar blogger will guest star on CBS's The Bold and the Beautiful September 23 and 26 as Reverend Murphy, who will officiate the soap's eagerly awaited wedding from hell. Hilton gave us the gossip, as only he can.
Is Reverend Murphy the real deal? Because, on soaps, ministers are sometimes bogus and weddings turn out not to be legal. So you gotta ask.
Yeah, he's a real minister. [Laughs] Or do you know something I don't?
Well, the last celebrity minister on B&B was played by Chaz Bono and he turned out to be a burglar.
I'm available! I'll definitely come back and be bad. Everyone at B&B was such a pro and so welcoming. I was shocked—well, not shocked because you always hear how hard daytime soap actors work—but I was so impressed by how much dialogue they do in a day. We did a 12-page wedding scene in only one take. No mess-ups. Trust me, I showed up over-prepared. I knew my lines perfectly. I came early. I did not want to be one of those people who holds up production.
RELATED: B&B's John McCook Dishes on the Shocking Wedding
I saw you on social media claiming B&B is one of your favorite shows. Seriously? Or were you just laying on the BS?
I love all of the soap operas. I was on All My Children as an extra back in 2000, just after I graduated acting school at NYU. I had no lines and can't remember the situation, though if Susan Lucci had been in the scene I certainly would have remembered that. But I do remember that another extra that day was Jonathan Bennett, who ended up getting cast as a regular on AMC. Then he did Mean Girls and now he does Cupcake Wars, so both our careers have gone in crazy directions. I'm so excited that I get to go back on a soap, this time with lines, and that I get to play a minister for the second time. My first time was in a movie that came out in 2008 called Another Gay Sequel, where my part was the polar opposite of the one on B&B. For a soap wedding, you're pretty much playing it straight but in the gay movie I was the campiest, silliest, most over-the-top gay minister ever. So it was nice, with B&B, to connect with a spiritual character in a much more legit way.
So what's your take on Rena Sofer (Quinn) and John McCook (Eric)?
They're fantastic. Rena and I bonded over children. She knows everything about L.A. schools. I have a 3-year-old and a 1-year-old so I picked her brain about the whole process. And John was so encouraging. Very kind and fatherly and always giving pats on the back. He's like a cheerleader.
You also appeared on Glee and Hot in Cleveland. Are you serious about this acting thing?
I've been doing so much acting it's awesome. I also did a movie that came out this year called Meet the Blacks, which is a satire of the Purge movies. I did two episodes of Another Period on Comedy Central. And I'm in the horror flick Most Likely to Die which just premiered on Netflix. Most people would say that a college degree in drama is a big waste of money, but I'm finally putting mine to good use!
Did you officially give up on an acting career, or did your dreams just slowly fade away?
I stopped auditioning when I realized I was really happy with my day job, which was working at a gay magazine. It was my last job before I started blogging. I was very happy at that magazine. I was interviewing really interesting people. I didn't even have time to audition. Of course, I don't know that Hollywood was ready back then for a guy who looked like me named Mario Lavandeira.
Do you actively pursue acting gigs these days or do you wait for the phone to ring, now that you're a pop-culture sensation?
Both. No one is as honest as I am so I will tell you that I am illegally obtaining the [casting] breakdowns so that I know everything that's being cast and what they're looking for. I do not get them from anybody on my team. In fact, they refused to give them to me. But I have my ear to the ground. I got my role on Another Period because Natasha Leggero, who acts on the show, emailed me and said, "Would you mind writing something about us?" And I said, "Sure, can you give me a part on your show?" After that happened, I thought, "Hey, I've got to do more of this!" So I hit up Amy Schumer. I DM'd her on Twitter and said, "Can I be on your show?" And she wrote back, "Are you available tomorrow?" [Laughs] I spent a day with her on the set and got to play her friend! I didn't have any lines but still viewed it as a big win.
And B&B?
That was a case where they called and asked if I was interested. I said, "Yes, let's do it!" But then weeks passed by and I didn't hear anything back. I waited…and waited. And then I called them and said, "Is the offer still there? I want to do this!" And that's how it happened. I really, really wanted to be on B&B. In fact, I had so much fun, now I want to get ordained for real!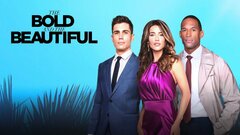 Powered by