'Speechless': Minnie Driver on Playing the Determined Mother of a Special-Needs Teen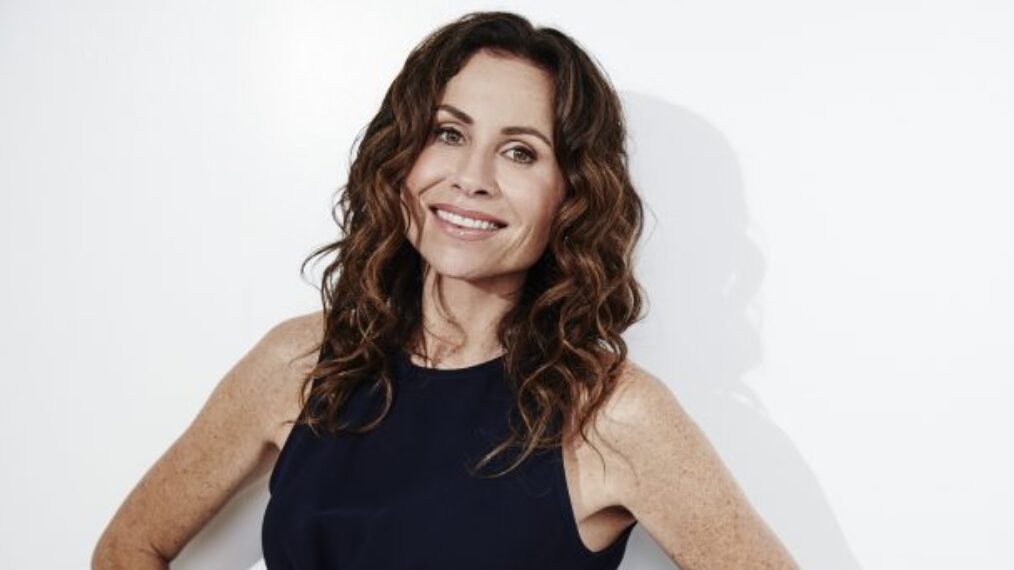 There's a new family on the ABC Wednesday comedy block. The DiMeos, the clan at the center of new series Speechless, are as hilarious, outrageous and endearing as the Johnsons, the Goldbergs and the Pritchetts—but with a key difference: Eldest son JJ (Micah Fowler) has cerebral palsy, uses a wheelchair and can't speak.
Mom Maya (Minnie Driver) will do whatever it takes to give JJ a voice in the world, and that includes relocating her entire brood to a town with a better school so JJ can have all the advantages his younger brother (Mason Cook) and sister (Kyla Kenedy) take for granted. We talked to the Oscar-, Emmy- and Golden Globe–nominated Driver about what makes the DiMeos tick—and how the show finds humor in a serious subject.
RELATED: More Scoop on Fall Shows
Your character is described as a "mom on a mission" who doesn't take no for an answer when it comes to her kids. What keeps her so tenacious?
Anyone who's a parent knows how you advocate for your child in a way that you just don't for anything else in your life. Well, maybe your pets. When you have a kid who is born with special needs, you have to fight twice as hard. Maya is determined that her son will have a life that is as full of joy and fun and opportunity as any typical child. The world isn't set up for disabled people, by the way. At all. She has to push really hard.
What was your first impression of Maya?
Well, everyone was like, "She's really unlikable." They were having trouble with people responding to her, which for me is hilarious, because it's like a problem child. Give me the problem child over the saint any day! I think the most interesting characters are the ones who rub you the wrong way, who create conflict. She's a harder sell, but for me that's a challenge. And you want that challenge when you're going to work.
Do you find yourself trying to make her more likable?
No. Absolutely not. That would be a misstep. The only way you can justify anything in a character is to present all of them. Audiences are too smart. They know when you're trying to manipulate them. I thought that it was better to play the honesty of it. That's how you get people on board with a character: not by trying to get them to like you, but rather playing the truth of who they are. And it's funny.
Maya is remarkably upbeat. How do you think she stays so optimistic?
I haven't experienced having a child with special needs, but from having talked to many who have, it's like surviving one of the worst things that can happen. You're presented with your beautiful new baby, and then you're told they're never going to lead a typical life. Once you've survived that, I think you are pretty upbeat. It's like, 'Now I fight. Now I fight for my kid to be joyful.' She can connect with joy because that's what she's determined to give her son.
RELATED: ABC Renews Last Man Standing, Orders Comedy Speechless
Her identity seems very wrapped up in being an advocate for JJ. Do you have a sense of who she is independent of that?
What you see in the first episode is the kicking-off point of somebody who has been trying to find a school for her son, a place that will treat him with the dignity and respect that we assume all our children deserve. Now that she's found this school, there is a process of finding out who she is outside of the relationship to her son. But part of what's fun about Maya is she can't really let him go.
What's it been like working with Micah Fowler?
He really is just an amazing person. Micah is as energetic and as dynamic as any able-bodied person I've ever worked with. You know, we work very long hours. Even when we're all so tired, he's still there smiling and cracking jokes. He is a bit of an inspiration—and I hate saying that because it sounds patronizing. But he's a good-humored, wonderful person.
What do you hope people will take away from this show?
I hope that they laugh. People are made very uncomfortable, it seems, by disability. They think, "Should we really be laughing about somebody who's in a wheelchair?" And it's like, yeah! Because you're [really] laughing at life. You're not actually laughing at them in a wheelchair. You're laughing because they're human beings who have to interact with this crazy world too.
Do you think Maya would laugh at a show like Speechless?
Oh my God, yes! Micah's mother, who has obviously been through this, said that when she watched the pilot, she was alternately shaking her head in recognition at the realness of it and also just laughing at how genuinely funny the script is. The parents of special-needs children I know have seen it and loved it. If they can appreciate it, then I know that everybody else can.
Speechless, Series Premiere, Wednesday, September 21, 8:30/7:30c, ABC.