'TWD: World Beyond's Alexa Mansour & Aliyah Royale on the Finale, Romance, & Season 2
[WARNING: The following contains MAJOR spoilers for The Walking Dead: World Beyond Season 1 Finale, Episode 9, "In This Life."]
To say sisters Hope (Alexa Mansour) and Iris (Aliyah Royale) went through a lot in The Walking Dead: World Beyond's first season would be a vast understatement. Not only did they trek across the country in hopes of finding their dad, they learned how to kill "empties," were betrayed several times — once by a close friend — and, in the end, wound up separated. And they don't even know yet that their home was burned to rubble!
TV Insider spoke to the duo about the Season 1 finale, their characters' romantic lives (or lack thereof), their ideas for Season 2, and more.
We start with one of the biggest surprises of Season 1: The status of Huck (Annet Mahendru) as a CRM mole. Monsour says when she learned about the twist, she was shocked. Still, she says, "there was something about Huck that just rubbed me the wrong way. There was something funky about her. I had a feeling."
Royale, whose character was the first to figure out Huck was off, was no less surprised. "We were waiting to see who would be the 'sketchy' character," Royale says, "but finding out Huck was [Lt. Col Kublek, played by Julia Ormond]'s daughter was a surprise to me."
Family ties play a huge role in the show's narrative, which includes, of course, their own father, Leopold (Joe Holt), whose relationship with walker-experimenting scientist Dr. Lyla Belshaw (Natalie Gold) at CRM did not sit well with his daughters.
"I think Hope would put hot sauce in her wine!" says Monsour. Royale adds that "old Iris" might've tried to make it work, but the person she became after her journey is far less amenable to her dad's new flame.
Both of their characters grew leaps and bounds throughout the course of the season, learning how to kill "empties," survive on their own, and even, as we saw in the last episode, when to sacrifice themselves for the greater good of their loved ones. Monsour says Hope grew the most "the second she left the community and had to start acting like an adult. She had Iris covering for her when she was inside the campus, but once they left, they all had to man up."
Iris' turning point, says Royale, "was when Hope told her what happened to their mom. That moment really shook Iris, and she needed to hear that a long time ago. She's been holding herself accountable for something that was so beyond her control, and Hope could've eased that guilt."
As for on-set experiences, Royale says she felt very moved the day they shot the scene with Iris and Silas (Hal Cumpston) dancing in the gym as though they were at Homecoming or prom.
"I got that experience at the same time Iris did," she says, explaining that she'd left school early to pursue acting and had never been to a prom. Making it even better, she adds, was the show's costumes and props departments making her a bouquet out of the corsages the extras were wearing: "That was probably the greatest set gift I've ever gotten."
As for Season 2, the actresses said they'll be back on set in early 2021. Their characters' sophomore-season storylines are still unknown to them, but they have ideas.
"A boyfriend!" Mansour says. "But on a serious note, I would like Hope to become a little more confident, and sure of herself. I don't think she gives herself enough credit."
"I would love her to not make a decision," Royale says of Iris' love triangle with Silas and Percy (Ted Sutherland). And she's also feeling pretty open-minded about CRM, saying she might even see the good in it. "Who knows?" she says. "She might walk in there to get her sister back and go, 'this is kind of cool.'"
Would they want their characters to meet anyone from the other TWD-universe programs?
"Daryl Dixon," Mansour says, explaining she'd like to ride on the back of Dixon's (Norman Reedus) motorcycle and kill some walkers (or empties) while she's at it. For Royale, it's Negan (Jeffrey Dean Morgan), hands down. "He's that chaotic character that you need," she says, "and I think Iris would love some chaos."
The Walking Dead: World Beyond, AMC, Returns 2021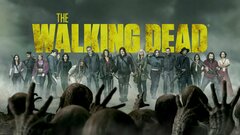 Powered by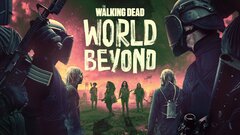 Powered by