'Hamilton' Tony Winner Renée Elise Goldsberry to Guest Star on Disney Junior's 'The Lion Guard'
She can't stay away from the Pride Lands. Renée Elise Goldsberry, a recent Tony winner for Hamilton, played the lioness Nala in The Lion King on Broadway and now she's guest-starring in a continuation of the beloved Disney classic—the animated Disney Junior hit The Lion Guard.
Goldsberry will voice the role of Dhahabu, an extremely rare golden zebra (yes, she sings!) in a Season 2 episode in which the Pride Lands have been hit by a devastating drought. The lion guard goes to Dhahabu and asks permission to share her watering hole…but the wily zebra wants something highly unusual in return. (Check out the character art below.)
RELATED: PBS Plans Hamilton's America Documentary
Goldsberry couldn't be hotter these days. The two-time Emmy nominee, best known to TV audiences for playing legal eagles Evangeline Williamson on One Life to Live and Geneva Pine on The Good Wife, will next star in the Netflix sci-fi series Altered Carbon. She has also landed the coveted title role opposite Oprah Winfrey in the HBO film The Immortal Life of Henrietta Lacks. Goldsberry plays her final performance in Hamilton on September 3. You already have your tickets, right?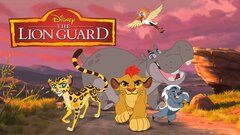 Powered by