'Impastor' Season 2 Key Art Shows Buddy In a Ton of Trouble (PHOTO)
The TV Land comedy Impastor starts its second season on September 28, and it starts where Season 1 left off: with Buddy (Michael Rosenbaum) in a ton of trouble.
If you followed the first season, though, it couldn't have happened any other way: Buddy tries to escape gambling debts and some thugs chasing him to collect by taking on the identity of a small-town reverend who accidentally dies trying to save him from jumping off a bridge. And, since the pastor was starting a new job, no one in town knew who he was, including his assistant Dora (Sara Rue). At the end of the first season, he was taking a fake passport and looking to escape the country when the police investigating his disappearance catch up with him.
RELATED: Heathers Is Coming to TV Land! Here Are 9 .Gif-Worthy Movie Moments
In the key art for Season 2, which you can see below, both sides of Buddy's life are in play: he's wearing his collar and leather coat, his hands bound into a praying position. He's about to be locked in the trunk of a car, we assume by the loan shark that he owes money to. How is he going to escape everyone pursuing him and still keep his ruse intact? It'll be fun to find out.
Impastor, Season Premiere, Wednesday, September 28, 10:30/9:30c, TV Land.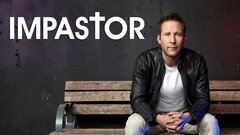 Powered by