Every Performer Is a Suspect in Investigation Discovery's 'Killer Carnies' (VIDEO)
Carnivals are seen as cheery places, not places set for murder and potential horror.
Investigation Discoveries' new true-crime series, Killer Carnies, focuses on the darker side of carnivals, town fairs and arcades, beginning Monday, October 19 on ID.
From the tragedy behind the bright lights, detectives piece together the truth. The leads come from suspicious drifters and devastated family members.
It's clear, it's not always fun at the fair!
In the premiere episode, "The Sideshow Murders," a brutal murder sends shock waves through the carnival community, and every performer is a suspect.
Grady Stiles, Jr., a famous attraction known as Lobster Boy, had a birth deformity that gave him hands that looked like lobster claws. But with the death of Lobster Boy, truths will be revealed, a reign of terror will meet a shocking end, and life at the carnival will change forever.
Killer Carnies, Premiere, Monday, October 19, 10/9c, Investigation Discovery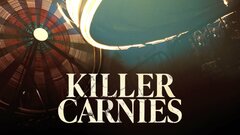 Powered by