What's Worth Watching: 'Animal Kingdom', 'Difficult People', 'Hard Knocks' and more for Tuesday, August 9
Animal Kingdom (9/8c, TNT): Sounds like a cliffhanger to me—but not to worry; the show has been renewed for a second season. With young J (Finn Cole) trapped between forces of law and family disorder, the cops are breathing down the neck of Smurf (Ellen Barkin) and the rest of the Codys, while Baz (Scott Speedman) is trying to track down his MIA lady love Catherine (Daniella Alonso).
Difficult People (new episodes available on Tuesdays, Hulu): The great Andrea Martin is back in this hilarious comedy as Julie's (Julie Klausner) mom Marilyn, the judgey therapist. In an episode titled "36 Candles," Julie faces her birthday with the realization that she actually enjoys hanging with her impossible mom when they're drinking—but honestly, when aren't they? Over in Billy (Billy Eichner) land, the lonely misanthrope tries dating a guy he met on an app. Which probably is not an abbreviation for appropriate.
Hard Knocks: Training Camp With the Los Angeles Rams (10/9c, HBO): Welcoming the Rams back to its West Coast home after a 22-year run in St. Louis, Hard Knocks has a fascinating comeback story to tell in its 11th season of behind-the-scenes NFL intrigue. Look for rookie quarterback and No. 1 draft pick Jared Goff to feature heavily in the narrative.
Inside Tuesday TV: The U.S. women's gymnastics team final is the highlight of NBC's prime-time Olympics coverage (8/7c), with diving and swimming also prominently featured. . . . Tim Holt, the handsome subject of Tuesday's "Summer Under the Stars" prime-time salute on TCM, may not be a household name, but he did appear prominently in two undisputed classics: 1948's searing study of greed, The Treasure of the Sierra Madre (8/7c), and Orson Welles' what-if post-Citizen Kane masterwork The Magnificent Ambersons from 1942.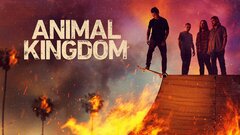 Powered by