FX's 'A Wilderness of Error' Revisits Jeffrey MacDonald's Conviction
In the 41 years since former Fort Bragg Army surgeon Jeffrey MacDonald was convicted of murdering his pregnant wife, Colette, and their two daughters in 1970, the verdict has sparked heated debates across pop culture.
Joe McGinniss' damning 1983 bestseller Fatal Vision quickly became a hit TV miniseries. Now Errol Morris' revisionist 2012 tome A Wilderness of Error has inspired this riveting five-part docuseries from Marc Smerling, Emmy-winning producer of The Jinx. (Three episodes air September 25; the final two October 2.)
The goal, says Smerling, is to bring the clouded history of the case into focus. Wilderness presents old footage of Helena Stoeckley, suspected of being the so-called woman in a floppy hat who defense attorneys argued was one of four hippie intruders responsible for the killings; never-before-heard phone calls with a detective recorded by Colette's stepfather Freddy Kassab as he pushed for MacDonald's indictment; and fresh interviews with key players in the military and criminal investigations.
As for the still-imprisoned MacDonald (above, with Colette and daughter Kimberley), he canceled a meeting with Smerling. Says the director: "We lay out the evidence in the right order so people can experience how it happened. They'll come to their own conclusions."
A Wilderness of Error, Series Premiere, Friday, September 25, 8/7c, FX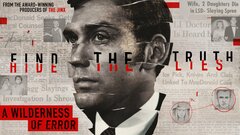 Powered by