'Mr Robot': Grace Gummer on Dom's Pursuit of fsociety
On USA's twisty drama Mr. Robot, vigilante tech whiz Elliot Alderson (Rami Malek) has the ability to wreak havoc with nothing more than a string of zeroes and ones—but now, he's going up against an opponent who operates by an entirely different code.
During Season 2 of the Emmy-nominated series, FBI cyber-crime agent Dominique "Dom" DiPierro (Grace Gummer) is making it her mission to crack the case of the "5/9 Hack," the digital takedown that Elliot and his fsociety crew orchestrated to destroy mega-conglomerate E Corp, leaving modern civilization severely crippled in the process. Here, Gummer keys in on her dogged alter ego.
RELATED: Mr. Robot Hacks Its Way to a Third Season
Why do you think Dom is getting so caught up in this investigation?
She lives and breathes this case, because in her mind, the hack was an act of terrorism on the same level as Osama bin Laden. Dom prides herself on being good at her job. She's very patriotic and morally sound, and she feels a need to prove herself in a mostly male-driven environment.
She also seems to have some unexpected personality quirks.
She's earnest, tough and unsophisticated—but underneath it all, she's a really feminine Jersey girl. For the audition, I practiced a Jersey accent and went in there with huge blow-dried hair, black boots and a blazer. I was pretty nervous!
We already know what Elliot is capable of. Is Dom an even match for him?
There's a drive and conviction in both of them—it's like a sense of duty to the world—that does make them a strong match. What's so great about this show is that it's not a clear-cut situation of right versus wrong. I wouldn't say that I'm the good guy in search of the bad guy, or vice versa. It will be up to the viewers to decide who they're rooting for!
Mr Robot, Wednesdays, 10/9c, USA.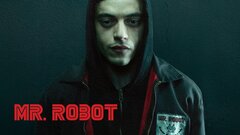 Powered by