'Quantico' First Look: Blair Underwood Joins Cast as Alex Joins the CIA
After being fired by the FBI, Alex Parrish (Priyanka Chopra) leaves Quantico behind in the ABC drama's sophomore season (premiering September 25) to join the CIA. Before she even exits the Farm—the agency's secret training facility—she's pulled into another deadly conspiracy, which forces her to question the loyalty of everyone around.
RELATED: Who Else Is Quantico Killing Off?!
Blair Underwood joins the mostly new cast as Owen Hall, an inspirational CIA officer who makes a big impression on Alex. "[Creator] Josh Safran et al. have created an edge-of-your-seat nail-biter filled with espionage, romance, action and levity," says Underwood (in the picture above with Russell Tovey, who plays morally ambiguous agent Harry Doyle, and Chopra). "I'm glad to play in Quantico's sandbox."
Quantico, Season Premiere, Sunday, September 25, 10/9c.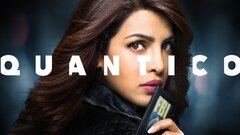 Powered by