Who Else Is 'Quantico' Killing Off?!
Clayton Hass. Natalie Vasquez. Elias Harper. That cute recruit from the pilot. All dead.
Honestly, the only thing fuller than Priyanka Chopra's hair is the morgue on Quantico. And now, executive producer Josh Safran has told TV Insider exclusively that there's another loss on the horizon.
RELATED: Quantico EPs on Why Natalie Vasquez Had to Die
"There will be no Quantico in Season 2," he reveals with a laugh. "That's a big spoiler I just gave away maybe…I don't care!"
Explaining that Chopra's Alex Parrish and her fellow New Agent Trainees are set to graduate in the season finale, Safran says the FBI training-facility setting will be left behind. Instead, we'll most likely see a second season that features the newly minted agents' first year in the field, but Safran is mum on whether the show will continue to jump back and forth.
"I can't answer that. I think the structure of the show is the structure of the show, but that doesn't mean that we're not going to be tweaking and fine tuning and sort of looking at it little bit differently," he continues. "I know it can be frustrating for viewers, but I really do love that, unlike most shows that use the flashback or flash-forward structure, we are actually half-and-half. That doesn't really exist on TV…it's like yin and yang, two sides of the same coin always pressed together."
As for anything else that may be pressed together this season, Safran warns against reading too much into those flirty scenes between Caleb (Graham Rogers) and upper-class NAT Iris (Li Jun Li).
"Iris and Caleb? Um…you'll see," he teases. "I'm not going to say. But it doesn't necessarily go where you think it's going to go."
Quantico airs Sunday night at 10/9c on ABC.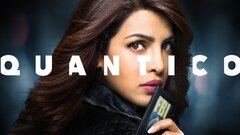 Powered by