'Wayward Pines' Season 2 Finale: Blake Crouch Teases the 'Huge' Final Hour (VIDEO)
As Wayward Pines' second season concludes, everything is falling apart: Jason (Tom Stevens) is very wounded after his fight with Kerry (Kacey Rohl); and the inhabitants of the town are going to have to be cryogenically frozen again in order to have a chance to outlive the Abbies.
"The season finale is a huge episode for us," Wayward Pines executive producer Blake Crouch says. (Crouch also authored the book series the Fox drama was based on.) "Everything we've been building towards comes to a head. It seems like Wayward Pines is going back into suspension, as a last ditch attempt to see what comes from evolution."
RELATED: Wayward Pines: Could a Baby Help Repair Rebecca and Xander's Relationship? (VIDEO)
With Jason out of commission, "Theo realizes his role as the leader of this town in the final episode," Crouch teases of Jason Patric's character. "There's been a lot of fits and starts, but he's definitively stepping into leader mode; logical and also the moral and ethical leader."
Viewers learned in the penultimate hour that Kerry was Jason's biological mother—a fact she's still in the dark about going into the finale—and that twisted relationship was one of Crouch's favorite things. "In the penultimate episode, they have this wonderful moment where we realize what their true connection is," he says. "We're going to see Kerry wrestling with that [truth]. It's a lot of fun. That was one of the first ideas we had when we were brainstorming Season 2. That came very early before any scripts were written."
RELATED: Wayward Pines Is Creepier Than Ever in An Unexpected Season 2
Watch an exclusive clip from the Wayward Pines finale, as Theo clues Kerry into a big secret.

Wayward Pines, Season Finale, Wednesday, July 27, 9/8c, Fox.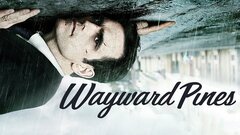 Powered by