First Look: Sisqo Teams With the 'Legends of Tomorrow' for the Finale (PHOTOS)
So you shakin' that thang like who's the ish? Yeah, well check out these moves.
DC's Legends of Tomorrow wraps up its fifth season on Tuesday, June 2, with what is looking like a battle royale between our heroes and the Fates — Charlie (Maisie Richardson-Sellers) and her two Greek deity sisters — who have created Loom World as a way to keep mankind from acting out. And at some point in the showdown, iconic '90s R&B star Sisqo and his hit "Thong Song" factor into the action, which explains the episode's title of "Swan Thong."
We'll let showrunner Phil Klemmer explain.
"Season 5 was all about 'Encores' — historical villains brought back from Hell to wreak havoc on Earth. One of our biggest challenges this year was finding baddies that were 'fun,'" he offers, citing how the list "kind of trickled off" after Rasputin and a few others. "As always, the mythology hijacked our romp-of-the-week stories as we approached the finale. This year we focused on the three Fates as our Big Bad (one of them being Charlie)."
Admitting that any talk of fate can lead to "a lot of heady, philosophical stuff about freewill, etcetera," Klemmer says that the writers opted to stay closer to the show's strengths ("Our show is at its best when it's raucous and zany, personal and heartfelt") by going with the notion that the Legends themselves were like the Encores. "They too had all been given second chances. Mick (Dominic Purcell) was a former bank robber, Sara (Caity Lotz) an assassin, Ava (Jes Macallan) a clone boss-lady… but they were all afforded the chance to reinvent themselves, to atone for their pasts."
So how does Sisqo fit in? "Well, first we conceived of a Museum of Free Will," explains Klemmer. "In the dystopian world in which the Fates rule there is a museum which displays all the horrors of the world in the time that preceded, in which humans could do whatever the hell they wanted."
This means the Encores and the Legends are remembered in this museum, as well as what Klemmer calls the "more innocuous products of human freewill (and ingenuity!)." Such as the Shake Weight… and Sisqo.
"A song from the '90s that celebrates women's underwear and makes kids go crazy at Spring Break is the antithesis of what the Fates want for the world, which is order," he continues. "But for the Legends to shake humanity out of its stupor they're going to need a soundtrack. Last year's finale, we had the Legends bring Nate (Nick Zano) back to life by singing a James Taylor tune and this year we have them helping the world shake the shackles of the Fates off by kicking ass with a little help from Sisqo."
Given that this is Legends, that makes perfect sense, right? On a personal note, Klemmer confesses that shooting the singer's appearance brought out the fan-geek side of his cast.
"Seeing our actors huddled around the monitor in video village, snapping pictures while Sisqo performed was an amazing experience — a reminder that while actors are celebrities, pop stars are something else entirely," he laughs. "If you want to see a TV or movie star get starstruck just put them in front of a pop/rock/rap star and they'll act as giddy as any kid at Comic-Con. Also, Sisqo has not lost a step or aged a day. I'm pretty certain he's got superpowers."
Hey, there's always room for one more butt, butt, butt on the Waverider!
DC's Legends of Tomorrow, Tuesdays, 9/8c, The CW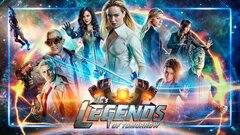 Powered by