'Zoo's Wild Second Season, From A to Z
Spoiler Alert: They live. Zoo's first season ended with animal expert Jackson (James Wolk), vet coroner Mitch (Billy Burke), safari guide Abraham (Nonso Anozie) and intelligence agent Chloe (Nora Arnezeder) nearly reuniting with their not-so-long-lost cohort, reporter Jamie (Kristen Connolly), just as an army of apes, rhinos and other mad beasties flanked their SUV.
RELATED: CBS Sets Return for Zoo, Big Brother, Series Premiere Dates for BrainDead and American Gothic
The second season opened moments later with their great escape. And it only gets wilder: Jamie goes missing…again. The genetic mutation causing the animal attacks has genetically mutated. Mitch is still ornery. Wolk, Connolly and executive producers James Patterson and Josh Appelbaum helped us compile an A–Z of people, places and furry things key to the goings-on.
Allison Shaw
U.S. Deputy Secretary of Defense Shaw (Joanne Kelly) joins the fray and wants a quick fix to the animal uprising. She's also related to Mitch.
Beware of humans
The mutation—once thought to be restricted to the finned, flying, four-legged or furry—may be communicable to humans through means like the dog bite on Jackson's arm.
Clementine (and her little dog too)
Mitch's critically ill daughter (Madison Wolfe) returns. Her pup, Henry, who went oddly unaffected before, is also back. "We follow his story through the season," Appelbaum teases. "He's [a factor in] the finale."
Dariela
Soldier Dariela (new series regular Alyssa Diaz) meets the gang after her unit makes a frightening find. "Her instinct is to shoot an animal if it attacks her," Appelbaum says. "Our guys are trying to cure them. There's some tension."
Elephant vs. Machine
You thought that Season 1's rats using the lift were a scream: This year's opener has a fight between an elephant and an airplane!
Friendships explained
Expect revelations about Abraham and Jackson's old life in Africa. "There was more going on in that relationship than viewers realize—in a delicious way," Appelbaum hints.
General Davies
The officer (guest star Peter Outerbridge) heads baddie biotech Reiden-Global's military-backed Noah Objective (see N). "Reiden was this amorphous threat," Wolk says. "This season, the evil that you feel is no longer faceless."
Hanky-panky
Love is in the possibly infected air—for Abe and Dariela!
Into the woods
Forced on the run before her friends can find her, Jamie must survive in the wild using what she learned about animal behavior last season. "Her storyline is like Zoo meets Lost meets Walking Dead," Patterson says.
Jackson
"He's in a really bad place both mentally and physically when the season starts," Appelbaum warns of Zoo's hero. Hint: The only way to fix Jackson is to fix the animals first.
Kinkajou
Lions, tigers and bears are so last year. This summer's creatures include a kinkajou. "I didn't know what it was," Connolly says. "But they're so cute!"
Logan
Jamie meets outdoorsman Logan (new series regular Josh Salatin, above, with Connolly) in the sticks. "He's a surprise-a-week guy," Patterson says. "Who he is and why he's there alter from episode to episode."
Mitch
Don't assume the divorcé (played by Burke, above) and his beloved Jamie will pick up where they left off (i.e., locking lips). "They've been on very different paths," Connolly says. "Connecting after that is challenging."
Noah Objective
The government and Reiden's plan to kill all animals and replace them using cloned DNA is still on.
Oz Family
Jackson finally checks in with his mom (Bess Armstrong) after leaving her in Botswana last season. "What's going on there is a big wrinkle," Appelbaum says. The zoologist's late father, Robert (Ken Olin), will also figure in heavily. Rewatch Robert's home videos in Season 1 for clues. "And keep your eyes peeled!" Wolk advises.
Phase Two
The mutation's mutation, or Phase Two, makes critters act in ways that hasten climate change. Sound familiar? "Just as we made the Earth uninhabitable for animals," Appelbaum says, "animals are doing it to us."
QT, on the
Jackson and love interest Chloe keep his illness a secret at first—bringing them even closer together.
Reiden-Global
The Noah Objective seems like Reiden's attempt to fix its own mess. But the corp also profits by making gas for exterminations. "Nothing is totally black and white with Reiden," Patterson says. "But it's mostly black."
Sloth
The long-limbed leaf-eaters are key to understanding the mystery behind the new mutation.
Travel
How do you get around when rhinos flip your car, rats take over your boat and birds crash your plane? For the team, it's in a fancy new toy paid for by a mysterious benefactor in the premiere.
Unaffected
Hell hasn't broken totally loose. Some areas of the globe have remained unaffected—and the gang visits them to find out why.
Vancouver
Relocating the set from New Orleans to Vancouver for Season 2 gave the producers the ability to film in bona fide…
Winter weather
That widened the breadth of locations the gang could visit and the varieties of animals they'd see. Result: Episode 5 has polar bears!
X, Mr. or Ms.
The Ma or Pa Warbucks who bought the team's ride will be revealed midseason—and we can't swear you haven't already met him or her.
RELATED: CBS Renews Zoo for Next Summer
You ain't seen nothing yet
Seriously. "Season 1 was a teaser for Season 2," Patterson says. "Now we're letting loose. The scientific theories the team formulated have changed. And the epidemic may be different all over the globe."
Zoology 101
Watching Zoo won't make you smarter, but you'll pick up a few fun facts. "I learned that sloths sleep upside down in trees and usually only come down to use the bathroom," Wolk says. "That's also usually when they're attacked by predators, which is so unfortunate for sloths. I can barely use the bathroom if someone is in there, forget thinking I'm going to die. I don't know how, mentally, they get over that hurdle."
Zoo, Tuesdays, 9/8c, CBS.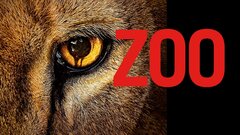 Zoo
where to stream
Powered by