People Keep Telling Ben Feldman He Cut Off The Wrong Body Part on 'Mad Men'
We spoke to a lot of fun people on the red carpet at this morning's NBC Universal upfront presentation, but we wanted to single out Ben Feldman of Superstore for going as in-depth on a couple of topics, or at least as you can in a couple of minutes on a chilly morning. One of which was his exit from Mad Men, when his character Michael Ginsberg slowly went mad and ended up cutting off his nipple.
On his Mad Men character's exit:
"Matt [Weiner] pulled me into his office a couiple of weeks before we all read that script and explained it. And there was almost a vibe that he was feeling me out, like 'Am I delivering bad news or great news? I'm not quite sure.' It was fantastic news to me; if someone said to me you could go another full season on that show or go out the way you did, I would have stuck with what happened. I loved it."
RELATED: NBC Announces Fall Schedule: Blindspot to Wednesdays, Superstore Kicks Off Thursdays, Plus 3 New Shows
On people confusing which body part Ginsberg cut off:
"It wasn't the ear; it was the nipple. People make the mistake every single day; I think it's because of Van Gogh. That's a cool thing about our society, is that we're cultured enough that it's a very common mistake that they think [Ginsberg] cut his ear off, and that's really Van Gogh's fault. People are like, 'How's your ear? Oh look, you've got both ears,' and I'm like, 'I've always had both ears.'"
On what he thought of the Mad Men finale:
"It took me a long time to coming around to loving it. It was like a break-up, so I have mixed emotions. But in the end I think they wrapped it up wonderfully."
RELATED: Superstore: America Ferrera Dons a Blue Vest as a Big Box Manager
On the weird things he sees in the store that serves as Superstore's set:
"It's the juxtaposition of things; if you look closely, it's everything from a really low-end, bodega kind of stuff, to really, really high end, Best Buy-type electronic store stuff. You'll see this crappy little whatever, then you'll see this super-overpriced coffee that you'll only see at Whole Foods, and like a hoverboard, and then some beef jerky."
On going to work on a set that looks like a Walmart or Target store:
"It's this weird sort of in-between thing. I was recently at a Walmart in North Carolina, and I felt like I was at work and someone should be mic-ing me and getting anxiety."
Superstore, Thursdays this fall, 8/7c, NBC.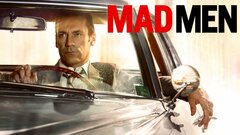 Mad Men
where to stream
Powered by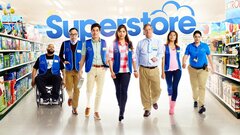 Powered by