CBS Orders 6 New Shows, Including 'Training Day', 'MacGyver' Dramas
CBS is looking to familiar franchises for the 2016-2017 season.
The network has ordered adaptations of Training Day and MacGyver. Additionally, CBS has ordered shows headed up by Matt LeBlanc, soon-to-depart NCIS star Michael Weatherly and Joel McHale.
RELATED: Upfronts 2016: Pickups, Renewals and Cancellations
Here's a list of what new dramas and comedies CBS has in store for the 2016-2017 season.
"TRAINING DAY
EPs: Jerry Bruckheimer, Antoine Fuqua, Jonathan Littman , Will Beall, Barry Schindel
EP/Director: Danny Cannon
Studio: Jerry Bruckheimer Television and Fuqua Films in association with Warner Bros. Television
Based on the feature film from Warner Bros. Pictures and Village Roadshow Pictures
Logline: A crime thriller that begins 15 years after the events of the feature film left, about an idealistic young police officer (Justin Cornwell) who is appointed to an elite squad of the LAPD where he is partnered with a seasoned, morally ambiguous detective (Bill Paxton).
Cast: Bill Paxton, Justin Cornwell, Drew Van Acker, Katrina Law, Lex Scott Davis, Julie Benz
BULL
EPs: Paul Attanasio, Dr. Phillip C. McGraw (Stage 29 Productions), Steven Spielberg (Amblin Television), Justin Falvey & Darryl Frank (Amblin Television), Jay McGraw (Stage 29 Productions)
EP/Director: Rodrigo Garcia
Studio: CBS Television Studios
Logline: A drama inspired by the early career of Dr. Phil McGraw as the founder of one of the most prolific trial consulting firms of all time. Brilliant, brash and charming, Dr. Bull (Michael Weatherly) is the ultimate puppet master as he combines psychology, human intuition and high tech data to learn what makes jurors, attorneys, witnesses and the accused tick.
Cast: Michael Weatherly as 'Dr. Jason Bull', Freddy Rodriguez, Geneva Carr, Chris Jackson, Jaime Lee Kirchner, Annabelle Attanasio
PURE GENIUS (Working Title) (formerly Bunker Hill)
EP: Jason Katims, Michelle Lee
EP/Director: David Semel
Studio: Universal Television in association with CBS Television Studios
Logline: BUNKER HILL follows a young Silicon Valley tech titan (Augustus Prew) who enlists a veteran surgeon with a controversial past in starting a hospital with a cutting edge, "new school" approach to medicine.
Cast: Augustus Prew, Dermot Mulroney, Brenda Song, Reshma Shetty, Ward Horton, Aaron Jennings, Odette Annable
MACGYVER
EPs: Peter Lenkov, Henry Winkler, Lee Zlotoff, James Wan, Michael Clear
EP/Director: David Von Ancken
Studio: CBS Television Studios in association with Lionsgate
Logline: A reimagining of the television series of the same name, following a 20-something MacGyver as he creates a clandestine organization where he uses his knack for solving problems in unconventional ways to help prevent disasters from happening.
Cast: Lucas Till as 'MacGyver', George Eads
MAN WITH A PLAN (Formerly Untitled Filgos Project/I'm Not Your Friend)
Multi-camera
EPs: Jeff & Jackie Filgo, Matt LeBlanc, Michael Rotenberg,Troy Zien
Director: James Burrows
Studio: CBS Television Studios
Logline: A contractor (Matt LeBlanc) whose wife goes back to work starts spending more time with his kids and discovers the truth every parent eventually realizes: his little angels are maniacs.
Cast: Matt LeBlanc, Jessica Chaffin, Matt Cook, Grace Kaufman, Hala Finley, Matthew McCann
THE GREAT INDOORS
Multi-camera
Mike Gibbons
Eps: Mike Gibbons, Chris Harris
EP/Director: Andy Ackerman
Studio: CBS Television Studios
Logline: An adventure reporter (Joel McHale) must adapt to the times when he becomes the boss to a group of millennials in the digital department of the magazine.
Cast: Joel McHale, Stephen Fry, Chris Williams, Shaun Brown, Christopher Mintz-Plasse, Christine Ko, Susannah Fielding"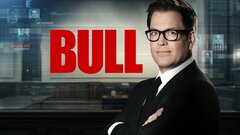 Bull
where to stream