'Crazy Ex-Girlfriend' Finale Preview: It's Paula's Turn to Vent to Rebecca
Move over Rebecca, it's Paula's turn to get a little crazy.
Or at least it well be when Crazy Ex-Girlfriend returns for its season finale Monday night. When The CW series last left off, it saw Paula (Donna Lynne Champlin) realize that her best friend Rebecca (Golden Globe Winner Rachel Bloom) had not only lied to her, about seeing someone else, but that the person she'd been seeing was none other than Greg (Santino Fontana), the one person she'd asked her BFF not to date.
"Paula is furious. It's not even the Greg thing. It's that Rebecca lied, and that she lied repeatedly," said Donna Lynne Champlin of where Paula's anger at her friend stems from. "Paula has established from Day 1 that she cannot suffer lies. She hates them. Also [Rebecca] just left town like two weeks ago without telling anybody. That's still there, and hasn't been addressed. So Paula has suffered a lot of slings and arrows. She's been a stalwart."
RELATED: Matt Roush's Love Letter to Crazy Ex-Girlfriend
Tonight's episode, which picks up almost immediately after the last one, finally sees Paula's support for Rebecca falter, instead giving way to her anger at her best friend. Given the musical nature of the show, Paula gets to channel her emotions through song, which you can watch in the exclusive clip below. The musical number sees her admit to a "laundry list" of things she's done to get Rebecca and Josh (Vincent Rodrigues III) together—most of which she hasn't told Rebecca about.
"We've always said that Rebecca has no idea of all the things that Paula has been doing," said executive producer Aline Brosh McKenna, who also directed the episode. "We had that in our mind for a long time so we had hints of that all along, but here is where you find out the lengths to which Paula went."
As the clip above shows, Rebecca isn't exactly thrilled with her best friend's revelation. But as Brosh McKenna pointed out, "That's also the scene where Rebecca understands that it's partly her fault. She really kind of delegated all those things to Paula, and sort of without asking, asked her to do it."
RELATED: Crazy Ex-Girlfriend's Vincent Rodriguez III Ponders the Idea of 'Crazy' Josh (VIDEO)
The song marks a big moment for Paula emotionally. Champlin said Brosh McKenna—upon whose friendship with Bloom Rebecca's friendship with Paula is based—gave her the direction to tap into Paula's "Middle-Aged Woman Rage."
"I don't think women, especially middle-aged women, are allowed to get furious. Because you don't see it. You'll see a woman release some rage if she's in a position of official authority, like a police captain, because it's justified because it's part of her job," explained Champlin. "But Middle-Aged Woman Rage is a very real thing. It's that rage that we [middle-aged women] all have. Like you get pushed and pushed and pushed, you have patience and patience and then all of a sudden the floodgates just open. It's this amount of rage that's terrifying to yourself," said Champlin, who is not only excited to channel it for her character, but is also curious to see how its received.
Brosh McKenna elaborated on this. "There's a thing where there's an age where you sort of become invisible. There are no depictions of women going through middle age in the culture. People just look through you. A lot of Paula's rage has nothing to do with Rebecca obviously. It has to do with her own feelings of frustration and her own life and mostly her feeling like life is passing her by. Middle-aged ladies are not a hot commodity in any realm."
RELATED: Crazy Ex-Girlfriend: Pete Gardner on His Newfound Love for White Josh
Champlin said Paula's song was originally longer, "We shot an additional verse. It was just another laundry list of stuff that she'd done." And unfortunately, her favourite part got cut. "I particularly loved the speaker under Josh's bed, that sort of at night just whispers, 'You love Rebecca… You love Rebecca…' When I read that I laughed out loud."
Crazy Ex-Girlfriend, Season Finale, Monday, April 18, 8/7c, The CW.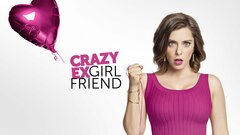 Powered by