Roush Review: 'Silence' Is Not Golden
When voice-over exposition begins to sound like an embroidered sampler, you know you're in trouble. So it is when the bland lawyer hero of Game of Silence offers this up in an "if only we'd known" introduction: "Fate, like life, is unpredictable."
Wish the same could be said for Game of Silence, a slick but tepid melodrama based on a Turkish series—is nothing developed here anymore?—that could just as easily have been poached from John Grisham's been-there, wrote-that file.
More Roush Reviews: See What Matt Thinks About Other Shows
The series opens with a Stand By Me-style prologue in 1988 small-town Texas during which a terrible accident changes the lives of four boys, who are sent to a notorious juvenile prison where very bad things happen to these unfortunate lads at the hands of despicable guards and a perverted warden (Conor O'Farrell). Flashbacks of that horrific time continue to haunt the adult version of our narrator, played by David Lyons, whom NBC keeps trying to convince us is a star (Revolution, The Cape, ER). He rather dully plays Jackson Brooks, who grew up to leave his buds behind for a successful career as a fast-track, big-city lawyer.
RELATED: NBC Planning a Live Version of Aaron Sorkin's A Few Good Men
If he could truly escape his past, there'd be no show. So when one of the old gang gets in deep trouble after an encounter with one of the former guards, Jackson is grimly reunited with his childhood pals, including Larenz Tate as Shawn and the very good Michael Raymond-James as Gil, a volatile loose cannon. Together, they concoct a half-baked plan of revenge to get justice, with the help of the lovely Jessie (Bre Blair), who was Jackson's girlfriend back in the day and is now involved with Gil.
The odds are steep, as the warden is now a Lieutenant Governor running for Congress, and another of their malicious targets is a drug-dealer whose many-tentacled operation generates a murky subplot. The villains are comically hissable, only one of many reasons why this too-familiar and forgettable Game is so regrettably missable.
Game of Silence previews Tuesday, April 12, at 10/9c; time period premiere Thursday, April 14, 10/9c, on NBC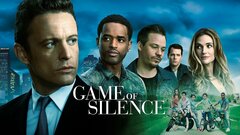 Powered by