Roush Review: A Slapstick 'Detour', Ken Burns on 'Jackie Robinson', Syfy's Dreary 'Hunters'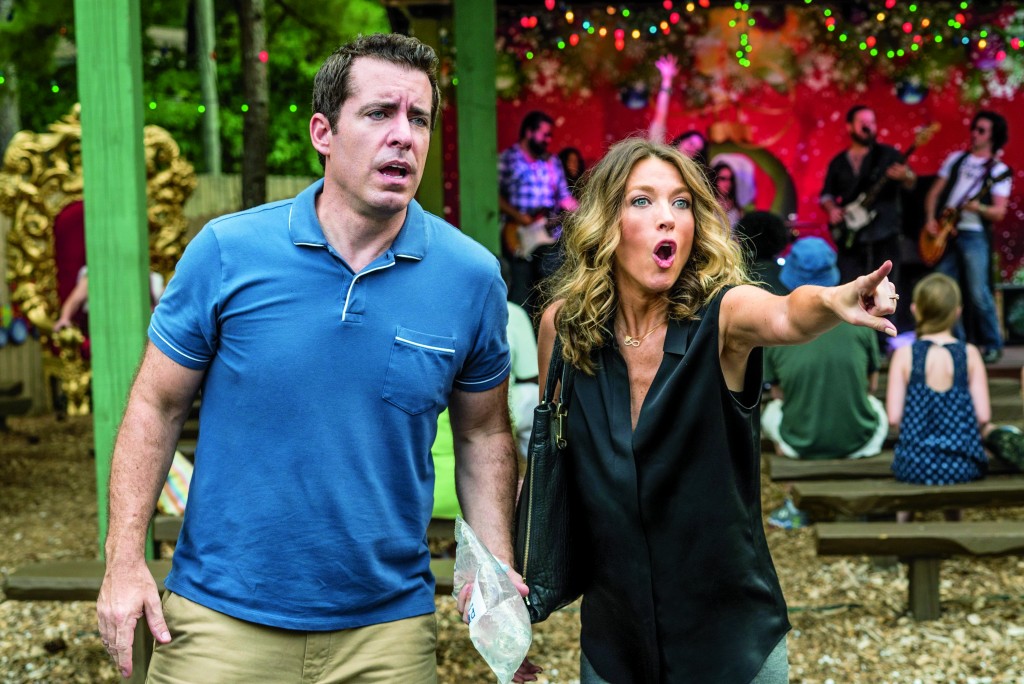 The hapless Griswolds from all those ill-fated National Lampoon Vacations have nothing on the Parkers of The Detour when it comes to family road trips from hell.
This shamelessly slapstick gross-out sitcom hails from former Daily Show power couple Jason Jones and Samantha Bee. While Bee's weekly dose of Full Frontal satire is one of this campaign year's smartest must-sees, Jones's star turn as Nate Turner, a burly doofus of a dad dragging his exasperated wife Robin (Justified's sweetly sardonic Natalie Zea) and their two kids into one fine mess after another, must settle for the merely ridiculous.
To Jones's credit, he eagerly embraces every opportunity to look the fool: getting doused with truckers' urine after his brats put a "Help us! We've been kidnapped" sign in the car window, cavorting naked (though thankfully pixilated) in a roadside motel, enduring diarrhea and vomit gags in just the first few episodes.
This is obviously not a high road The Detour is traveling. But those with a taste for cheerful vulgarity might find it very funny. And there is a point to these picaresque misadventures, because Nate's motivation in driving this unruly tribe from Syracuse to Ft. Lauderdale is to play whistle-blower on his shady bosses at a biomedical convention. Whether they ever reach their destination I can't yet say. But if the actual goal here is belly laughter, so far so grody.
RELATED: Jason Jones Takes The Detour to Give the Kids a Fun Road Trip (Kind Of)
A BASEBALL LEGEND: Master documentarian Ken Burns is back on very familiar ground in his glowing two-part biographical portrait of legendary athlete-turned-activist Jackie Robinson. Returning to two of his favorite subjects, race in America and the turbulent history of its national pastime, baseball, Burns (with daughter Sarah Burns and her husband, David McMahon, as producer-writers) finds an inspiring profile in courage of a man who, as President Obama says in an interview, "laid the foundation for America to see its black citizens as subjects and not just objects."
With sports as a cultural catalyst, Robinson broke baseball's color barrier in 1947 as a Brooklyn Dodger, stoically facing prejudicial taunts and threats. The film's second night charts his more troubled history in the Civil Rights Movement: proudly marching on Washington in 1963, but accused of being subservient to white masters when he spoke out against militancy. Jackie Robinson could have used more fire in its storytelling, but like its subject, there's nobility in its restraint.
More Roush Reviews: See What Matt Thinks About Other Shows
HOMELAND INSECURITY: Not even an anti-terrorism hero as dynamic as Jack Bauer could bring life to a project as numbingly generic as Syfy's dreary Hunters, which presents a square-jawed cipher of an FBI agent (Nathan Phillips) recruited into the clandestine ETU—sounds like 24's CTU, but this would be the Exo-Terrorism Unit—when his search for his kidnapped wife intersects with their agenda. The ETU mission, should anyone choose to stay awake, is to smoke out alien terrorists (known as "hunters") embedded among us, who announce themselves with skittering and thrumming sounds before emitting deadly sonic shock waves.
It's all very grim and drab—what some might generously call gritty, though that would require dramatic texture—­with just enough gore and guts to remind you that The Walking Dead's Gale Anne Hurd is somehow among the producers responsible for this mess. Hunters aspires to relevancy when someone makes the bold (if tasteless) declaration that "Hunters make ISIS look like Girl Scouts," recruiting civilians to their murky cause with a by-the-numbers manifesto that a cartoon villain like Snidely Whiplash might possibly envy: "You will not be safe. You will pay the price. We are many. We are everywhere and we are angry. The end begins now." If only that last line were true.
Only Julian McMahon, as the Hunters' malicious Big Bad, seems to be enjoying himself, and by the second episode he's presenting his naked backside as if he were still on Nip/Tuck. His swagger isn't nearly enough to pierce the torpor that otherwise dooms Hunters to the dust bin of Syfy's lowest rung of unoriginality.
The Detour premieres Monday, April 11, 9/8c, on TBS
Jackie Robinson premieres Monday-Tuesday, April 11-12, 9/8c, on PBS (check local listings at pbs.org)
Hunters premieres Monday, April 11, 10/9c, on Syfy