'Private Practice' Arrives on Netflix — Why the 'Grey's' Spinoff Is Your Next Binge
Grey's Anatomy, ABC's popular medical drama, found a new generation of fans when it began streaming on Netflix nearly a decade ago. Private Practice, the 2007–13 spinoff of Grey's, is now poised to do the same with its arrival on the streaming service.
Peeling herself away from a messy love triangle at what was then known as Seattle Grace hospital, surgeon Addison Montgomery (Kate Walsh, above) relocates to California for a fresh start working with her old med school classmates (Audra McDonald and Taye Diggs) at a wellness group.
"Seattle's rainy; Los Angeles is sunny," exec producer Betsy Beers told TV Guide Magazine in 2007. "This show's a little lighter, a little more like L.A."
Lighter, yes, but it's just as juicy as the bed-hopping action on Grey's.
"When you put anyone in a new situation, they're gonna freak out," Walsh said. "[Addison is] trying to reinvent herself, and anytime somebody tries to do that, it's funny and pathetic – everything that makes a good TV show."
She's absolutely right.
Private Practice, Seasons 1–6, Now Streaming, Netflix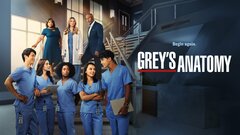 Powered by