'The Walking Dead' Teaser: Lucille Looks Like She Could Use a Drink (PHOTO)
Lucille is looking very, very thirsty. You see, she's a vampire bat, and she's been waiting all season for a drink.
AMC has made no secret of that fact that The Walking Dead's slick and brutish super villain, Negan (Jeffrey Dean Morgan), is making his debut appearance in the Season 6 finale, with teasers splattered across each episode since Daryl, Sasha and Abraham first encountered a group of Saviors in the midseason premiere. The network's latest tease only shows the back of Negan's head, but gives a close-up glamour shot of his better half, the barbed wire-wrapped baseball bat, which in the comics he's affectionately dubbed Lucille.
QUIZ: Which Walking Dead Villain Said It?
Comic fans, and anyone who has been just about anywhere on the internet in the last several months, will know that Lucille is a key player in one of the books' most violent and heartbreaking scenes, and keen-eyed fans of the show have already seen a few oblique references to her in the last few episodes. First, Glenn spotted photos of some of her headless victims hung on the wall of the Savior compound, and in last Sunday's episode, Carl found her likeness carved into the grip of one of the Saviors' guns.
It seems almost certain that Lucille will get a taste of a major character in next Sunday's finale, but whether or not she'll drink up the same person she did in the comics remains a tightly guarded secret. With Glenn, Michonne, Carol, Morgan and especially Daryl potentially in harm's way, no one is safe.
The Walking Dead, Season finale, Sunday, April 3, 9/8c, AMC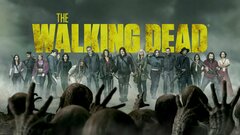 Powered by