'Supergirl' Boss on Kara's Personal Step and National City's Newest Threat
Spoiler alert! This post contains spoilers for the March 28 episode of Supergirl, "Worlds Finest."
The Flash's Barry Allen (Grant Gustin) made the most of his time in Supergirl's National City: he helped Kara (Melissa Benoist) defeat Livewire (Brit Morgan) and Silver Banshee (Italia Ricci)—plus, he gave her a push towards making her feelings for James (Mehcad Brooks) known.
"One of the things that was gratifying about doing [the crossover] and doing it now was it wasn't just a gimmick episode…she really needed him," executive producer Andrew Kreisberg told reporters after a screening of the episode. "When I called Grant and said, 'Do you want to do this? You're going to get to be Oliver,' he was like, 'I'm going to have to be all dark and brooding?' And I was like, 'No. In the same way in the pilot, you were just starting out and Oliver's the one who has been doing it for a while, he was able to be the voice of reason, and he was able to help you out, that's what you're going to be for Kara; because Kara is just starting out, and she's had a conscious of crisis due to the red Kryptonite episode.'"
RELATED: How the Crossover Came Together
"The Flash coming to Supergirl really helps her overcome the challenge she had been dealing with," Kreisberg continued. "And his advice to her about how she's been living her life is about to have repercussions as far as Jimmy is concerned. That, to me, that it was constructed in that way feels very special."
VIDEO: Behind the Scenes of The Flash–Supergirl Crossover
Thanks to Barry's advice, Kara invited James over to her apartment and kissed him. "She's the one who got the advice this week about when to go slowly and when to move fast, that really resonated with her," Kreisberg said of Kara's big step. "I think she finally realized, too, they had so many fits and starts, and so much of it was because one or the other of them didn't stop talking and act."
But Kara's gamble will be pushed to the backburner now that Myriad was unleashed on National City just as she was kissing James. As a result, James (and the rest of the city) lost free will and was drawn together with the rest of the mind controlled people. "As you'll hear in subsequent episodes, you start to get very cogent arguments from the bad guys' side about why Myriad is the way to go," Kreisberg previewed. "And for us, we always love it when the bad guys have a point—they're leaving out the part about killing a lot of people or losing your free will, but next week, Non gives a speech that says, 'What has your free will gotten you? It's gotten you a planet full of reality TV shows and politicians who can't stand each other. And you're all standing around, sitting by, as global warming is coming to destroy your planet. What if everybody was…moving in the same direction? What if everybody was working together? Would that be better?'"
"Obviously that's horrible, losing your freewill, and we'd all miss our reality shows," Kreisberg continued. "But he has a point of view you could argue—that always makes the most compelling villains."
As Kara attempts to give the people of National City their free will back, she'll have a few unexpected allies on her side. "She has a couple of surprising players that you wouldn't expect to be the two people completely unaffected by Myriad," Kreisberg teased.
Other key players who might be able to enter the mix? Alex (Chyler Leigh) and Hank (David Harewood), who were out of town on a mission to find Cadmus (where Alex's father is being held) when Myriad hit. "[Alex] is on a mission, but Myriad taking over the entirety of National City is going to put into question which mission she should be pursuing," Kreisberg said. "Obviously she knows her father is alive and out there, but the entirety of National City has been taken over, so there's been some discussions with Hank in the subsequent episodes of which danger is more immediate and pressing."
Supergirl airs Mondays at 8/7c on CBS.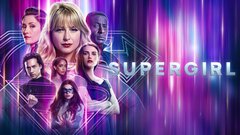 Powered by