Nickelodeon's 'The Loud House': Can 1 Boy Survive in a Family of 10 Girls? (VIDEO)
You've met The Proud Family, now get ready to meet the Loud family.
Nickelodeon's latest show, The Loud House, follows 11-year-old Lincoln Loud as he navigates growing up with 10 very different sisters. Luckily for the lone boy, he has his best friend Clyde to help him figure out how to deal with life in a large, chaotic family—and dealing with any potential problems that might arise.
VIDEO: Nickelodeon's School of Rock Mixes Music With Shakespeare
The series premiere—of which you can watch a brief clip below—sees Lincoln attempt to beat each of his sisters to the couch in order catch the finale of his favorite show, while another episode sees Lincoln scrambling to erase a harsh voicemail from his sister Lori's phone before she can hear it.
The 26-episode animated comedy is inspired by creator Chris Savino's (Powerpuff Girls, Rocko's Modern Life) own childhood growing up as one of 10 kids. The show is not only based on a short of the same name from the annual Nickelodeon Animated Shorts program, but it's also the first series to be greenlit. A first look at full-length episodes will be available Friday, April 1 and Friday, April 15 on Nick.com, the Nick App and Nick On Demand.
Also on Monday, April 25, viewers will be able to check out Lincoln and his sisters' crazy antics in the new game, Welcome to The Loud House, which will be available on Nick.com, the Nick App and other gaming platforms, including iTunes, Amazon, Xbox, Google Play, Vudu, Playstation, and Nick On Demand.
The Loud House premieres Monday, May 2 at 5/4c on Nickelodeon.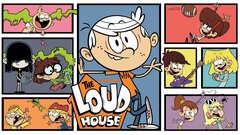 Powered by