Cupid Returns as 'Arrow's Not-So-Veiled Threat
As if the romantic situations in Star City weren't in enough trouble, Cupid is coming back to town to do even more damage!
"Cupid is on a mission to stop love," laughs Amy Gumenick, who is reprising her role as the red-haired bad girl in this week's episode. "She wants to protect the world from the inevitable pain and heartbreak that comes with love. She is now a believer that love is no longer the cure, love is the disease."
RELATED: Stephen Amell Talks About Being the Elder Statesman of the "Arrowverse"
Last seen as a member of Amanda Waller's Suicide Squad in Season 3, Gumenick hints that her character—once a optimistic avenger with an Arrow fixation—has gone a bit rogue in her third appearance following a change of (broken) heart.
"She has a long string of heartbreak and has [begun to] target celebrity couples on their wedding days or honeymoons," she continues. "You know, take 'em out on the happiest moments of their lives." Given that the Arrow (Stephen Amell) was "in a lot of ways one of her first profound loves," Gumenick sees Cupid's return to Star City as the perfect spot to spread the message "that love does not, in fact, exist."
Clued in to her anti-bliss agenda, the estranged Oliver and Felicity (Emily Bett Rickards) decide to pose as a happy couple again, going so far as to stage their own wedding, hoping to draw Cupid's aim. Will working such a cozy ruse reignite that old Olicity heat? All Gumenick will say is that some hearts may be left racing by what goes down. "I think that this episode in particular has a pretty profound effect on where they are, in terms of their relationship and their thoughts on love," she previews. "They kind of come to some fun, big self-discoveries."
Arrow airs Wednesdays at 8/7c on The CW.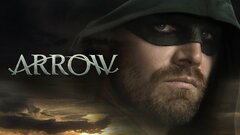 Arrow
where to stream
Powered by